Guest blog by Tom Embury, Public Affairs Officer, British Dietetic Association.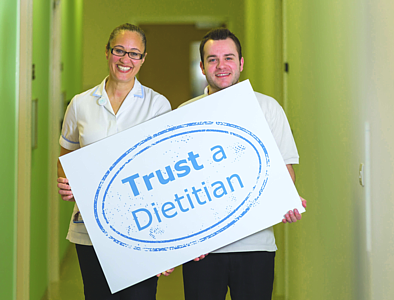 The Allied Health Professions most commonly associated with arthritis and MSK conditions are probably our colleagues in Physiotherapy and Occupational Therapy, but the British Dietetic Association (BDA) believe dietitians have a key role to play in supporting patients and working with colleagues as part of multidisciplinary teams to prevent and treat these conditions.  
The BDA is one of the world's oldest nutrition and dietetic bodies and represents the 9,000 or so dietitians working in the UK, as well as students, dietetic assistants and affiliate members. It is well established that diet has an important role to play in protecting against or helping to manage conditions such as osteoporosis and arthritis.
Being overweight or obese is also a key risk factor for MSK conditions, and diet is the single biggest factor in causing or reversing obesity. It is also increasingly obvious that the relationship works the other way, with conditions such as arthritis making eating and preparing food more difficult, and increasing the risk of malnutrition, especially amongst older people.
Joining ARMA is part of the BDA's efforts to highlight and develop what dietitians do in a wider range of roles, conditions and sectors. In particular, we are currently prioritising the central role we think dietitians can play in prevention and public health. It was the theme of our recent Dietitians Week campaign, which is now in its fifth year, and preventing and managing MSK conditions was one of the many varied roles we featured.
We're looking forward to learning more from colleagues in this field and contributing the BDA's perspective to the work of the Alliance. We're keen to share our resources through the MSK Knowledge Hub, such as our Free Food Fact sheets, which include specific dietary advice for osteoporosis and osteoarthritis, as well as more general health eating advice and nutrient specific information on calcium or vitamin D. We hope by adding our voice to the alliance we can help to transform the quality of life of people with musculoskeletal conditions.