Public Health England's Chronic pain in adults 2017: Health Survey for England reported that 34% of adults in England reported chronic pain in 2017; that's around 15.5 million people and 81% of people with a musculoskeletal condition reporting being in chronic pain. ARMA brings together over 30 health charities and professional bodies and pain is something which unites the variety of conditions which fall under the term musculoskeletal. For many patients it is the pain, not the condition, which they identify as most disabling. Pain is something which is important to our members and the patients they represent. Accordingly, the ARMA alliance has co-produced these following resources on chronic pain.
ARMA Core Offer for pain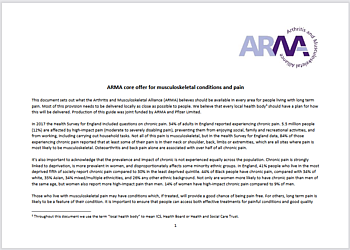 This document [PDF] sets out what the Arthritis and Musculoskeletal Alliance (ARMA) believes should be available in every area for people living with long term pain. Most of this provision needs to be delivered locally, as close as possible to people. We believe that every local health body (ICS, Health Board or Health and Social Care Trust) should have a plan for how this will be delivered.
ARMA Chronic Pain Policy Position Paper
(Full version and Executive summary)
More community-based approaches to pain should be developed to meet the needs of people with chronic pain. Multidisciplinary, networked, personalised approaches to pain should be standard.
Chronic Pain – This is how it feels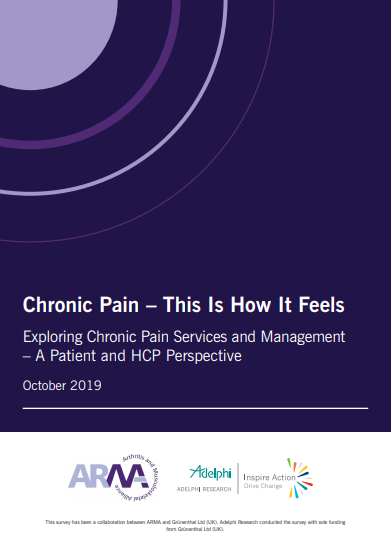 In October 2019 a report on chronic pain services and management from a patient and healthcare professional perspective was published. This report describes the results of qualitative interviews and highlighted a number of key insights:
Living with chronic pain affects all aspects of a patient's life – it places a huge burden on patients, exacerbated by a lack of clear answers about how best to manage daily life
Patients often face delays and setbacks when trying to gain access to appropriate treatments and healthcare support services
GPs also face hurdles at almost every stage of treating and managing chronic pain and are aware that there are inconsistencies that vary from location to location across the country
Access to specialist pain services is difficult and is inconsistent across the UK
Overall satisfaction with support for chronic pain is fairly poor and patients have mixed experiences of services
The research has highlighted a number of key insights and themes for how respondents felt that chronic pain services can be improved and made more equitable in the future.
ARMA roundtable on Pain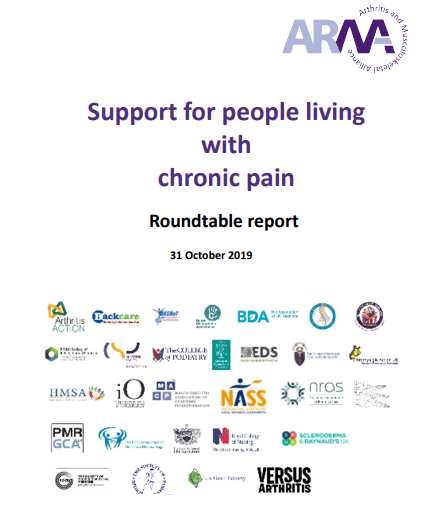 In October 2019 ARMA held a roundtable bringing together people working on chronic pain from a range of perspectives to discuss what might be done to improve the experience of people living with chronic pain.
The report of the roundtable sets out the key points made during the discussion of the issues and possible solutions, as well as recommendations for action.