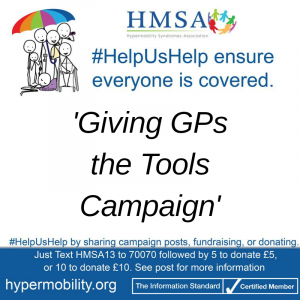 The January edition of The Hypermobility Syndromes Association e-news is available here.
The HMSA will continue raising funds for their 'Giving GPs the Tools' campaign (outlined in the December ARMA newsletter) until 31st May 2018. The campaign, which will help people with heritable disorders of the connective tissue, and other hypermobility related health problems access appropriate care more easily, is allowing the HMSA to develop new information and a resources guide. The funds will also assist with the continuing development of professional training in the conditions we support. We have new plans, based on the 'HMSA Kent Model', which will make it far easier to transport to other geographical areas, you'll find more about this in the next HMSA Journal, due in late Spring.
If you would like to read more, visit this post on the HMSA website.
The annual #HMSAware campaign will be largely focused on the 'GP Tools' campaign this year. You can follow this on twitter at #HMSAware and also see the #HelpUsHelp feed.