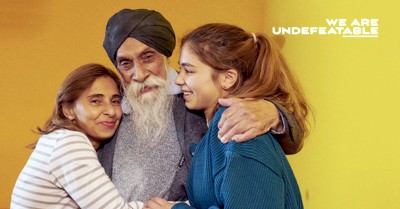 A new campaign, We are Undefeatable, launched on 2 September from Sport England and associated partners including Versus Arthritis.
The campaign aims to help people with health conditions find ways to get active. With a long term condition you are two times more likely to be inactive. Physical activity plays a powerful role, it can help manage 20 or more conditions and reduce the risk of many health conditions by up to 40%.
Sport England are challenging the existing narrative and working with partners to challenge the status quo. They created a unified physical activity campaign which challenges misconceptions and finds a strong emotional platform to engage and motivate and sustain behaviour change across health conditions.  It's designed with the perspective and lived experience of people with health conditions.
It's aimed at an audience from ages 30-64 years old and beyond and at people who are doing a little physical activity, less than 30 minutes, or none. For more information see Twitter @undefeatable or www.weareundefeatable.co.uk