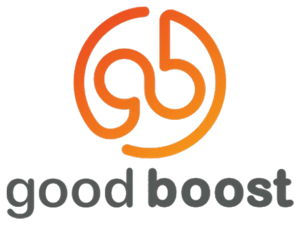 Responding to the pandemic with co-design to create digital solutions.
Good Boost is a social enterprise which transforms public swimming pools into therapeutic spaces for people living with MSK conditions. We create individually-tailored aquatic rehabilitation programmes using AI-powered software on waterproof tablets. We've been developing rehabilitation technology for the last 5 years since starting up as a community research project in Oxford, UK.
"We're working to make sure we continue supporting people living with MSK conditions while minimising risk of transmission" Ben Wilkins, CEO.
With MSK conditions affecting over 18 million people across the UK, and with millions of physiotherapy and orthopaedic appointments postponed due to Covid-19, there is now an ever-growing need for solutions that provide personalised support in the community and at home. This meant we had to think differently. In response to the pandemic, our team of specialist clinicians, researchers, physiotherapists, osteopaths, software developers and AI engineers have been working round the clock. We've redeveloped our validated software to provide exercise programmes on land at home, rather than in water at a local leisure centre. The team have also been running 'virtual focus groups' with members of some of the largest MSK charities in the UK. The participants live with one or more musculoskeletal/pain conditions and worked with Good Boost to offer their thoughts and feedback. This allowed the team to co-design features, function and user experience to make sure the app is fit for purpose and easy to use. The app allows for self-management of many MSK conditions and is particularly beneficial for those unable to access their usual therapy due to the pandemic.
In order to make our plans a reality, we've won funding from Innovate UK as part of its 'Business lead response to Covid-19'. This has enabled us to complete all the clinical and technical developments needed, building on top of the clinical and technical developments supported by the SBRI MSK technology programme.
The Good Boost Home App features:
MSK consultation: 10-15 minute registration process to enter in details about your joint or pain condition so the Good Boost app can recommend exercises most suited to you
Individually-tailored exercise programmes that adapt and evolve session-to-session based on your feedback
Easy to follow exercise interface with exercise images and animations, along with description and countdown timer
Ability to track and monitor your progress and key musculoskeletal stats, including overall wellbeing, function and pain
Weekly tailored hints and tips to self-manage your joint and pain condition
The app is free for two months and less than £1 a week thereafter.
Embedding co-design as a core principle and following rapid testing and development methodologies has meant we've created something that can transform any space into a therapeutic place.
Please visit the Good Boost website to learn more.