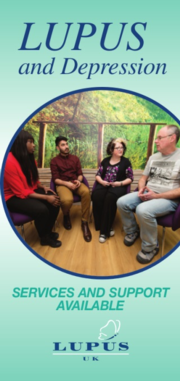 This month LUPUS UK has published its new leaflet for patients, 'Lupus and Depression'.
Depression is a common manifestation in people with lupus, so the purpose of this leaflet is to provide information and also signpost available support services.
The new leaflet is available free of charge by contacting LUPUS UK National Office. Alternatively it can be viewed and downloaded from the Living with Lupus section of our website.
LUPUS UK Re-brand – Coming Soon
On Monday 12th October 2015, LUPUS UK will be revealing their new re-brand. This overhaul of the current appearance of the charity will incorporate all of our existing publications and we shall also be launching a new website which will be more user-friendly and optimised for mobile and tablet devices.
More news about the changes will be following in due course.