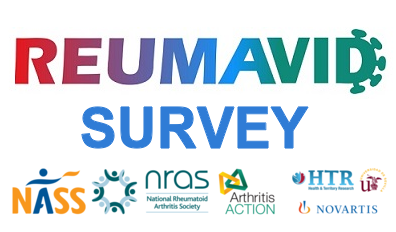 Reumavid is a questionnaire investigating the consequences of the covid-19 pandemic on people living with rheumatic conditions in United Kingdom.
The survey is aimed at people living with rheumatic diseases who are experiencing confinement due to COVID-19.
Its aim is to describe the consequences of the pandemic on the evolution of the disease, support services, healthcare, the quality of life and the emotional well-being of people living with rheumatic diseases.
This study is promoted by National Axial Spondyloarthritis Society (NASS), National Rheumatoid Arthritis Society (NRAS), and Arthritis Action, and conducted by the Health & Territory Research (HTR) of the University of Seville, with the support of Novartis Pharma AG.
Visit the survey page for full details and to take part.