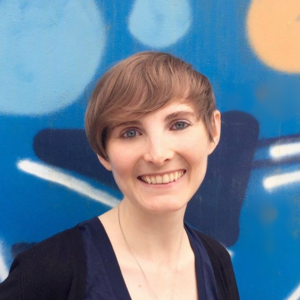 Guest blog by Chantal Lyons. This essay was the national selection entry winner for the UK for the Edgar Stene Prize 2022

Everything changed in the year I turned twenty-three. In the spring, I began to run, dragging my unfit body off the sofa and into the local park. In the summer, I began to dream of running the London Marathon like my father had. And in the autumn, I could no longer ignore the white-hot pain growing in my hips and back.
For the past two years, I'd had trickles and sometimes lightning crackles of pain. An MRI had shown inflammation, but the consultant at the time had brushed me off with anti-inflammatory tablets. Taking up running stoked the fire in my joints, but if I hadn't, it might have taken far longer for me to be diagnosed with axial spondyloarthritis (AS).
Although the pain could be managed with my new medication much of the time, I still felt as if my wings had been torn off. I could no longer run. I would never make that final sprint up the Mall in London and over the finish line. At a hydrotherapy session at the hospital, I saw a woman in her forties whose AS had frozen her spine into a sideways bend. Condemned her to forever walk in a slow shuffle. Fear crawled into my mind and coiled up there, the same way that AS had wormed its way into my joints.
Degenerative chronic diseases usually have ups and downs; calm periods and flare periods. My experience of AS made me think of the climate graphs that show the spiky yet steadily downward trend of sea ice extent in the Arctic. Each flare chipped away at me, leaving me more afraid of the next. When you are in the deep throes of pain, and your body cannot tolerate even walking, it's almost impossible to imagine ever escaping that state. And when you do escape, it feels like an illusion; the cage door is open, but you'll soon be dragged back inside.
I saw AS as a predator, as my enemy, and the only way I knew how to fight was with exercise. If the specialist and the physiotherapists had drilled just one thing into me, it was that movement was now as vital to my body as water or food. I had seen my father apply that lesson after a terrible accident in which he nearly lost his life to a boat propeller. As soon as he could leave his bed, he was walking laps around the hospital ward. Not much long after, he was back to running.
Because I could no longer run, I climbed into a pool instead. The lengths were boring, nothing like sprinting in the open air with a blue sky gleaming or the wind howling. Yet in that pool, I discovered a new way of being powerful. A new way of knowing, and loving, my body. I honed my technique, swam faster, swam for longer. On all but the most painful days, once I slipped into the water, I shed AS like an old skin.
One day in January 2019, I heard about a relay swim of the English Channel that was being organised for charity. A question bloomed inside me: what if I could do that, instead of a marathon? I was afraid. Although I could swim well, I didn't know if my body could handle hours at a time in the cold sea, during the training and the relay itself.
I decided to do it. It was the biggest leap I'd ever taken. But it was one in which I felt supported by my specialist. She'd recently put me onto an anti-TNF, and the pain was more distant than it had ever been since my journey with AS began.
Over the months leading up to the relay in September, I pushed at the limits I had once placed around myself. AS is a trickster, in my experience at least; its flares so often seem random, uncoupled from how much or how little exercise I do. My swim training became more intensive, but the pain didn't. The discovery liberated me.
My team and I completed our swim in 16 hours. The second time I jumped into the water was at midnight, in the middle of the shipping lane, and in waves higher than I had ever been in before. I didn't need to think about my AS for a single second of that swim. Nor did I as my feet touched down on the muddy sand of the beach beside Cap Gris-Nez. On the boat ride back, with champagne fizzing in our plastic flutes, I laughed and sang with my team mates. I had reached France because of them. And they were symbols too for the team of family, friends, and NHS workers who had carried me to this point with their support, and their belief in me.
With the first lockdown of 2020, all the swimming pools closed. I began to walk more, much more, instead. I might have had my wings taken, but I am like water now. I find a way. With each door that I open, I only wonder, where is the next?
This year, it turned out to be a five-day hike along the Pembrokeshire Coastal Path in Wales, carrying everything on my back. Since my diagnosis, I have treated my back as if it were spun glass. I have never dared to put any load on it. But the Channel swim showed me that sometimes, the only way to move forward is to leap. I committed to those five days, with ten kilograms on my back, and on the train home afterwards I couldn't stop grinning.
And next? I am letting myself dream of the Pacific Crest Trail, a path in the USA that spans 2,600 miles across desert and mountains. Even if I don't finish it, I will start it. In fact, I suspect my AS will be less of an obstacle than convincing my mother to give her blessing to the adventure.
If it was possible to reverse time, and to live a life in which my AS never woke from its slumber within my genome, I don't know what choice I would make. I wish I could be free of the constant knowledge of my disease. But it is also true that because of AS, I am fitter than I have ever been. Because of AS, I watched the sun rise as I swam towards France. Because of AS, there is not a day when I am not grateful for what my body can do, and the places it can take me. Although I still fear the future, each moment of the present has become more precious to me.
Because of AS, I feel more alive.
A body with arthritis is a fragile one. But we who carry this disease are often stronger than we believe. Sometimes, we have to quieten the habit of thinking that pain is always a warning to stop. Sometimes, we have to take risks.
To anyone who has just been diagnosed with AS, and is more afraid than hopeful for the future, let me tell you this: you have not yet discovered how much you are capable of.