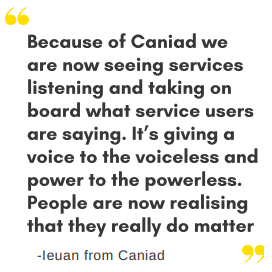 Together for Mental Health in North Wales is an all-ages plan for mental health services in North
Wales covering the period up to 2021.
It has been put together by NHS Wales with partner organisations and with people who have lived experience of mental health issues. The project is supported by Caniad, an organisation created to involve people with lived experience in the design, delivery and evaluation of our mental health services.
The strategy outlines NHS Wales's ambition to offer a comprehensive range of services that:
Promote health and wellbeing for everyone, focussing on prevention of mental ill health, and
early intervention when required;
Treat common mental health conditions in the community as early as possible;
Are community-based wherever possible, reducing our reliance on inpatient care;
Identify and treat serious mental illness as early as possible;
Manage acute and serious episodes of mental illness safely, compassionately, and
effectively;
Support people to recovery, to regain and learn the skills they need after mental illness; and
Assess and treat the full range of mental health problems, working alongside services for
people with physical health needs
Open the Together for Mental Health in North Wales strategy update document [PDF]
Law yn Llaw at Iechyd Meddwl yng Ngogledd Cymru – Chwefror 2018 [PDF]