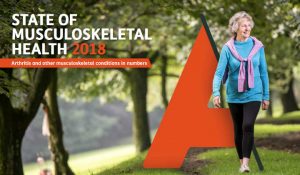 The State of Musculoskeletal Health 2018 is a resource for health professionals, policy makers, public health leads and anyone interested in musculoskeletal health. We believe that with the best information you can build awareness, make more informed decisions, feel more confident and ultimately help more people with musculoskeletal conditions. The resource was put together by Arthritis Research UK.
Using the best available data on prevalence, risk factors and comorbidities, the report lays out the key factors affecting musculoskeletal health, the economic benefits of musculoskeletal research, and describes the scale and impact of the problem.
You can read more details on the report from the arthritisresearchuk.org website and download the full set of statistics (PDF 2.9 MB).