Resources: Documents and Downloads
This is where we will make available ARMA documents and member publications including studies, reports, maps, data, toolkits, lecture notes and useful links that we think will be helpful and interesting.
We will add more documents here over time, reintroducing files and adding new publications and research as we refresh our website, so be sure to check back.
Work and Arthritis
The Working with Arthritis page on the ARMA website gathers together resources, reports, advice and useful links dedicated to helping the working situation of employees with MSK conditions.
Musculoskeletal disorders are the second biggest cause of work-limiting health problems and sickness absence in the UK, representing a huge cost to the economy in terms of lost working days and employment support. Evidence shows that people with MSDs want to work but require more help and support to make this possible.
ARMA Documents

Musculoskeletal Toolkit
Musculoskeletal toolkit launched to help employers support people with musculoskeletal conditions
ARMA worked with Public Health England and Business in the Community to develop a new toolkit for employers in the workplace, which launched at the Health and Wellbeing at Work Conference in the NEC today (7 March 2017). Musculoskeletal conditions are an important consideration for businesses as they are a leading cause of pain and disability in the UK, affecting many employees.
The toolkit draws together information for employers to support staff in the prevention, early identification, management and adaptation for people affected by musculoskeletal conditions. The musculoskeletal toolkit is a simple step-by-step guide dealing with back, neck, muscle and joint pain at work. It will help employers access the best free resources that are available for their organisation and employees.
You can access the toolkit from the Business in the Community website.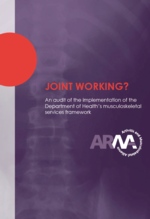 Joint Working Review 2009
ARMA has looked at the way the government's MSF policy has been put into practice. Three years after the Department of Health launched the initiative in 2006, we reviewed its implementation in our document, which you can read here:
"Joint Working?: An audit of the implementation of the Department of Health's Musculoskeletal Services Framework" (pdf 1.3MB)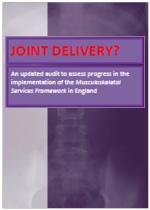 Joint Delivery Report 2012
Two years on from Joint Working?, ARMA undertook an updated audit of musculoskeletal services in England to see what progress, if any, has been made and to develop a baseline against which new national and local commissioners of musculoskeletal services can be assessed. This report is an updated audit to assess the progress in implementation of the Musculoskeletal Services Framework in England.
Joint Delivery demonstrates variable progress in delivering the recommendations of the Department of Health's Musculoskeletal Services Framework (MSF).
MSK Map of England
The purpose of these maps is to demonstrate the local variations in quality of NHS musculoskeletal services which exist in England.
In highlighting these local variations, ARMA is aiming to highlight the need for clear, national action to improve NHS musculoskeletal services – and ensure that all people living with a musculoskeletal disorder receive the same, high-quality, standard of care wherever they live in the country. The raw data underpinning these maps is appended to this document.
MSK Map of Scotland
This is an report emerging from an audit of Health Boards in Scotland in 2010. It shows evidence of local variation in the quality of NHS musculoskeletal services in Scotland.
By elucidating the variations in resources and approach to MSK shown on these maps, ARMA aims to highlight the need for clear, national action to improve NHS service provision in Scotland for musculoskeletal conditions.
About Arthritis and MSK Disorders
Global Burden of Disease
GBD Study – UK Focus
The Global Burden of Disease study (2010) was published in The Lancet in March 2012, is "the largest ever systematic effort to describe the global distribution and causes of a wide array of major diseases, injuries, and health risk factors." Devised and collated by the Institute for Health Metrics and Evaluation (IHME), GBD 2010 is the first comprehensive study of the impact of all diseases and risk factors worldwide.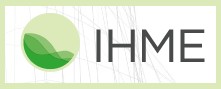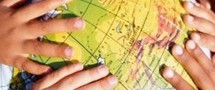 Drawing out the study's data related to health in the UK shows that musculoskeletal conditions have the third greatest impact on the overall health of the population, considering both death and disability.
Resources for Primary Care
The following resources are designed to help you play a part in reducing delays to diagnosis.
Including which clinical features in patients with back pain should raise suspicion of SpA, how to investigate in primary care and the criteria for referral to secondary care.
A user-friendly guide to inflammatory arthritis for primary care professionals.
Includes when to suspect an inflammatory arthritis, to whom to refer and with what urgency and how to manage inflammatory arthritis.
A range of events and guides to ankylosing spondyloarthritis for health professionals.
LUPUS UK's Guide to Diagnosis and Treatment for General Practitioners and Associated Health Professionals seeing patients who present with a number of symptoms which are not easily categorised.
LUPUS UK's guide to introduce nurses to systemic lupus erythematosus (SLE) including symptoms, treatment and wider issues such as fatigue and psychological impact.
Sets out the latest thinking in EDS, including the new approaches to diagnosis and as they relate to primary care.
A range of resources for GPs, midwives and physiotherapists.
Public health
Physical activity guidelines
With the growing emphasis on public health and healthy living, there is an increasing recognition of the importance of physical activity for preventing and reducing the impact of long-term conditions such as MSK disorders. These guidelines on physical exercise from the CMO are not new but are still useful resources in this area, in a very broad sense.
Move More Exercise Scheme
Over the coming months and years there will be a number of programmes and initiatives across the city of Sheffield to help people "Move More – Do Something."
At the heart of the project is a "Whole City" approach to increasing physical activity in all ages and all parts of Sheffield. Move More is supported by all the major City partners including the Voluntary Sector, the NHS, both Universities, the Local Authority, Sheffield Chamber of Commerce, and Sheffield International Venues (SIV) who run a number of the leisure facilities.
Download the 54 page pdf plan for the scheme or visit the Move More website. It's a long document, but we recommend you browse the "Move More plan one-page summary" on page 8.
ESCAPE-pain
(Enabling Self-management and Coping with Arthritic Pain using Exercise) is a rehabilitation programme for people with chronic joint pain, typically knee osteoarthritis. It integrates self-management and coping strategies with a progressive exercise regimen bespoke to each individual. The programme helps people better understand their condition and realise exercise is a safe and effective self-management strategy that can be used to reduce the physical and psychosocial effects of joint pain.
The website has been developed for healthcare professionals, with support from Health Education South London and Arthritis Research UK, to further spread the programme. It contains all the resources needed to set up and deliver the programme locally, which are available to download free of charge.
Read more about ESCAPE-pain.
Care Planning
Care and Support Planning Guide
The Care and Support Planning Guide is an interactive PDF designed by National Voices for anyone with health and care needs.
It will help you to understand what care and support planning is and how it might help you, and get started with care and support planning An easy read version is also available. Click on the document icon to read more.
Care Planning and Musculoskeletal Health
This is Arthritis Research UK's report on care planning and the impact it could have on people living with musculoskeletal conditions in the UK.
Care planning can enable people to self-manage their condition, and to identify actions they can take to improve their own health. Despite the NHS commitment to offer everybody with a long-term condition a personalised care plan, we found that just 12% of people with a musculoskeletal condition currently have one.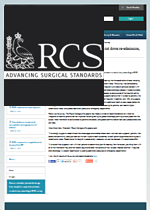 Better Planned Hospital Discharge to Cut Down Re-admission
Clearer and better planned discharge from hospital is required to cut down re-admission, according to RCS survey.
Evidence shows uncoordinated care is distressing for patients; can lead to higher re-admission rates; and places additional pressure on emergency departments.
In the RCS survey of surgeons and patients published in September 2014, follow-up and access to care outside of the hospital setting was raised as a concern as less than half (41%) of surgeons believe that it is clear to patients who they should contact if they experience problems following discharge from hospital. In addition, only 18% of surgeons and stakeholders are confident that surgical teams are aware of a patient's additional health or care needs before the first surgical consultation.
Good Practice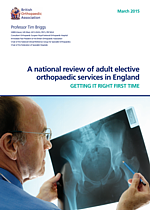 Orthopaedic Services – GIRFT Report
This is the Getting It Right First Time report – a national review of adult elective orthopaedic services in England.
Published in March 2015 by the British Orthopaedic Association, it looks into current practices and outcomes of NHS hospitals providing orthopaedic surgery in England, to identify and quantify variation in clinical outcomes, processes, patient experience, patient pathways, network arrangements, financial impacts and waiting times.
You can read more background (press release, Data Supplement and Executive Summary) on GIRFT from the BOA webpage, or to open the full report, click here.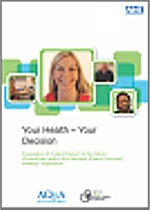 Your Health Your Decision Evaluation Report
AQuA is the Advancing Quality Alliance – a membership body which aims to improve the quality of healthcare. The aim of this publication is to share the insight and experience gained from the AQuA workstream, one of the three national QIPP Right Care programmes run in 2012, funded by the Department of Health.
The evaluation highlights and promotes the journey taken by the 33 clinical teams participating in a large scale collaborative programme, and the work around developing a receptive culture and promoting Shared Decision Making with educators. This report is written with quality and service improvement leads in mind, with a focus on the importance, application and implications of Shared Decision Making in patient care.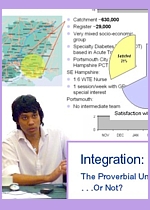 Integration & the Super Six model
Dr Partha Kar, Clinical Director of Diabetes at Portsmouth Hospital NHS Trust since 2009, spoke at ARMA's 2013 AGM about his pioneering and award-winning Super Six model. There is a lot that we in MSK can learn from the redesign of diabetes care in Portsmouth: managing CCGs, targets and reviews, the tendering process, policies, and affecting changes. These ideas are particularly relevant to ARMA's own own Clinical Networks project.
This video combines the audio and slides from Dr Kar's talk, which is based upon a lecture he presented to government. Accompanying Powerpoint slides only.
Prioritising person-centred care – the evidence
National Voices have put together these pages detailing the evidence for the effectiveness of person-centred care, in order that commissioners, health professionals and service-user groups can see what works best and how to invest time and resources. Person-centred care involves placing people at the forefront of their health and care. It ensures people retain control, helps them make informed decisions and supports a partnership between individuals, families and services.
The National Voices guides cover the main components of person-centred care across five booklets: supporting self-management, supporting shared decision-making, enhancing experience of healthcare, improving information and understanding, and promoting prevention.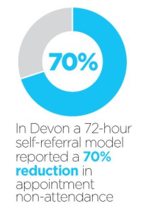 Self-referral – the evidence
Evidence shows that self-referral to physiotherapy results in increased patient satisfaction as well as benefits for GPs and other stakeholders in relation to time, costs and workload.
The Chartered Society of Physiotherapy has laid out data and charts showing why we should support self-referral; evidence for GPs, employers and patients; and a map showing the CCGs that currently offer self-referral in the United Kingdom.
Commissioning (England)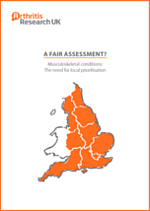 MSK – The need for local prioritisation
Arthritis Research UK have published a report making a series of recommendations designed to improve the recognition of conditions such as osteoarthritis and back pain in assessments. It is called A Fair Assessment? Musculoskeletal Conditions – The need for local prioritisation'.
The report sets out the results of research into the Joint Strategic Needs Assessments (JSNA) and Joint Health and Wellbeing Strategies (JHWS) of the 152 local authorities that have a statutory duty to publish them, along with any supporting documents.
In particular, we looked for the number and context of mentions of:
Generic mentions of arthritis and musculoskeletal conditions/diseases
Osteoarthritis
Back/back pain
Fragility fractures, bone health, osteoporosis and falls owing to an underlying musculoskeletal conditions.
The PCRS and ARMA Guide to Commissioning
The full title of 'Expert Opinions in Rheumatology', Issue 2, is the Primary Care Rheumatology Society's Guide to Commissioning Musculoskeletal Services.
This document describes good practice in Commissioning and MSK services, reviews current services, and outlines a redesign of current systems with patient-focused and outcome-driven services at its heart. The PCRS devised this guide together with ARMA, the British Society for Rheumatology (BSR), and the British Orthopaedic Association (BOA).
BOA Commissioning Guides
Each of these guides, provided by the British Orthopaedic Association, has been put together by a dedicated guidance development group, which has representatives from Specialist Societies, primary care, physicians, commissioners and patient groups as well as other clinicians involved in the delivery of the service.
A distinctive feature of the guides has been the development of online Commissioning Dashboards and Procedures Explorer Tools for each of the surgical procedures covered. Each Dashboard shows indicators for activity commissioned by CCGs for the relevant surgical pathway and provide an indication of the quality of care provided to patients based on metrics such as length of stay and readmission rates.
There are guides covering the following speciality areas of orthopaedics: Foot & Ankle, Hands, Hips, Knees, Elbow & Shoulder, and Spine. Visit the BOA website for more background and to download the Commissioning Guides.
Ealing CCG MSK JSNA Chapter
NHS Ealing CCG Musculoskeletal Services, led by Dr Ian Bernstein, published this Chapter for Ealing Joint Strategic Needs Assessment in September 2014.
A report on Musculoskeletal Health in Ealing, it contains data on levels of need, interventions, costs and benchmarking.
Click here to download the Assessment report.
International / BJD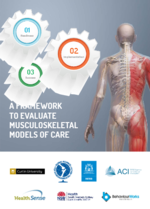 A Framework to Evaluate Musculoskeletal Models of Care
The first internationally-informed Framework for Developing and Evaluating Musculoskeletal Models of Care has been developed by a team of Australian researchers in partnership with The Global Alliance for Musculoskeletal Health.
What are Models of Care?
Models of Care are guides or policies that outline the principles of care for particular conditions and how to implement that care in a local setting.
Who is the Framework for?
The Framework is intended to help those tasked with planning, implementing or evaluating health services to achieve an optimal Model of Care and its sustainable implementation. While the World Health Organisation has developed a guide to assist nations in assessing capacity for responding to the burden of cancer, diabetes, cardiovascular disease and lung diseases, this Framework assists nations specifically address musculoskeletal health challenges through Models of Care.