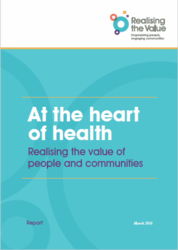 The "At the Heart of Health" report, from the Health Foundation and Nesta, explores the value of people and communities in healthcare, in the context of, and in support of the NHS Five Year Forward View vision.
Realising the Value of:
Peer support
Self-management education
Health coaching
Group activities to support health and wellbeing
Asset-based approaches in a health and wellbeing context
What are person-centred and community-centred approached for health and wellbeing?
How have these approaches developed?
Click to download and open the report document (PDF, 865kb), an overview of the evidence and benefits and their impact.