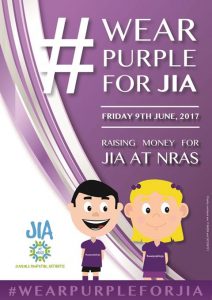 RA awareness week 19-25th June
The RA Awareness week packs are flying off the shelves and we're looking forward to an action-packed week.
NRAS is holding the 1st "Rheum for You" conference of the year in Swindon on the Wednesday 21st June and have lots of people signed up to hold their own events during the week. We have a different theme every day and you can keep an eye on our plans on the NRAS website, Facebook and Twitter channels.
#WearPurpleForJIA
NRAS is delighted to announce that the #WearPurpleForJIA 2017 Campaign has chosen to support NRAS again as their charity for the year.
Friday 9th June 2017 will be a day awash with purple everywhere and a great day to get young and old involved at home, school or work. Encourage friends and family to wear something purple, from socks to hats, and everything else in between!