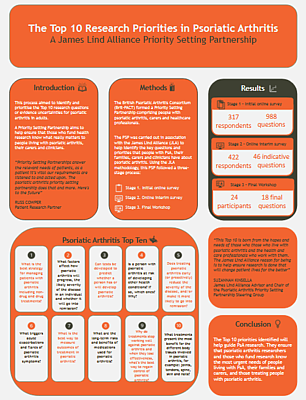 Final update on the James Lind Alliance Psoriatic Arthritis Priority Setting Partnership
During the last two years the researchers running the James Lind Alliance Priority Setting Partnership have explored unmet needs in psoriatic arthritis, determining what is important for people living with psoriatic arthritis, their families and carers, and the healthcare professionals treating them. The project is now complete.
The results from this project will be used to guide future research. This infographic [opens in PDF] summarizes the project and its findings.
The priority setting partnership was funded by BritPACT and led by Dr Laura Coates from the University of Oxford in collaboration with the Psoriasis Association, the British Society of Rheumatology (BSR) and PAPAA.
Thanks go to all those who participated in this project.
You can find more details on the James Lind Alliance and BritPACT websites.