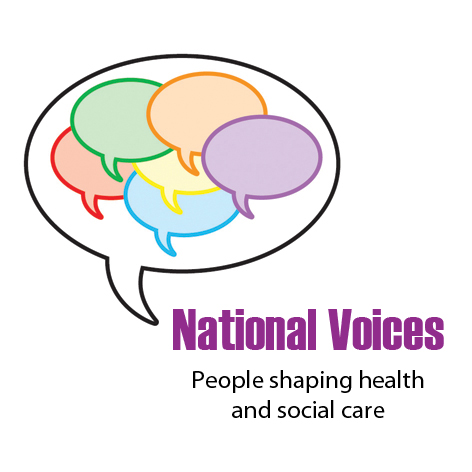 Calls and contributions from health and social care charities
National Voices, the health and care charity coalition, today sets out demands for genuinely person centred care. It warns that services are increasingly fragmented and underfunded, with too little voice for patients and families, and says that fully involving people in decisions is the key to improvement.
In Person centred care 2020: Calls and contributions from health and social care charities and in a related letter in The Times today, National Voices members call on the next government to make person-centred care the central ambition for health reform, and to provide consistent leadership, more funding and stability. They want to see government supporting local efforts which personalise and coordinate services, particularly for people with chronic conditions and disabilities, with public agencies, voluntary groups and local communities working together.
National Voices members warn party leaders against radical structural reorganisations and urge that reform should start with people, not structures. They highlight the growing evidence that care is better when people have a say in the decisions about their health, are supported to look after themselves, and can plan their care in partnership with professionals and effective services.
National Voices Chief Executive, Jeremy Taylor, says: "There is a growing consensus about what great care looks like and how to achieve it. But progress is too slow. We want to see genuinely person centred care by 2020. Lots of things are needed for this, but above all a different attitude. Healthcare reform has been dominated by politics, economics, and professional and organisational priorities. We want to see reform starting with people – with the pattern of services driven by what matters to patients, carers and communities."
Below is a summary of the calls from National Voices members:
1. Target public health. England is not doing enough to prevent ill health. We need a renewed, nationally led drive to reduce harm from smoking, drinking, poor lifestyle and wider causes of poor health, focused on those with the greatest burdens and risks of ill health. (Sections 4 and 5).
2. Make people the priority, not the system. Professional and organisational priorities routinely trump the priorities of people who use services, their carers and families. In its extreme form this leads to outrages like mid-Staffordshire and Winterbourne View. 'What matters to people' should be one of the key organising principles for services. (Section 4).
3. Support people with chronic conditions and disabilities. We call for investment in proven ways of enhancing people's health and quality of life: shared treatment decisions; supported self-management; training for health staff in person centred care; access to health records; peer support; personal budgets; and widespread use of care and support planning. (Sections 2 and 3).
4. Create people-powered services. Statutory services cannot fix everything. It is time to recognise, support and invest in the huge contribution of carers, volunteers, engaged citizens and the voluntary and community sector in helping individuals and shaping services. It is time to work with citizens and communities as equals. This requires a shift in mind-set, behaviours and processes. (Sections 4 and 5).
5. Fund health and care properly. The next government must guarantee a five year settlement for health and social care, with real terms increases in public funding, including for the contributions of the VCS. This is essential to enable the transformation of care we seek. Without this settlement the fundamental principles of the NHS will be undermined and the policy goals of the Care Act 2014 will be unachievable. (Section 6).
6. No more top-down reorganisations. These are distracting, morale-sapping and wasteful. The next government should set the direction for person-centred care. It should create consistent incentives for health, social care, VCS and other services to come together, in locally suitable ways, moving towards integrated budgets and commissioning. It should support devolved leadership while ensuring there is clear accountability for local performance. (Section 5).
These calls are consistent with a growing cross-sector consensus about what needs to change in health and care as in the 2015 Challenge partnership of which National Voices is a member.