There are an estimated 28 million people in the United Kingdom (UK) who experience chronic pain, with around 10–14% of people experiencing moderate to severely disabling pain. Not all of this pain is musculoskeletal, but osteoarthritis and back pain account for over half of chronic pain.
Pain is something which unites the variety of conditions which fall under the term musculoskeletal and for many patients it is the pain, not the condition, which they identify as most disabling. As the umbrella body of patient and professional musculoskeletal organisations, pain runs through everything ARMA does. In March 2019, we held a roundtable on mental health and musculoskeletal health. The importance of pain came across strongly and the recommendations included that integrated physical and mental health support should be available in a range of settings including pain services. Pain is something which is important to our members and the patients they represent.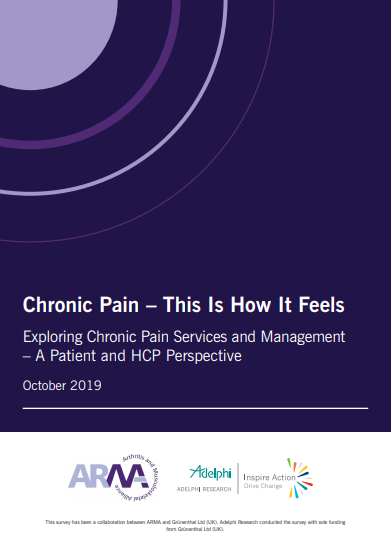 Chronic Pain – This is how it feels
In October 2019 a report on chronic pain services and management from a patient and healthcare professional perspective was published. This report describes the results of qualitative interviews and highlighted a number of key insights:
Living with chronic pain affects all aspects of a patient's life – it places a huge burden on patients, exacerbated by a lack of clear answers about how best to manage daily life
Patients often face delays and setbacks when trying to gain access to appropriate treatments and healthcare support services
GPs also face hurdles at almost every stage of treating and managing chronic pain and are aware that there are inconsistencies that vary from location to location across the country
Access to specialist pain services is difficult and is inconsistent across the UK
Overall satisfaction with support for chronic pain is fairly poor and patients have mixed experiences of services
The research has highlighted a number of key insights and themes for how respondents felt that chronic pain services can be improved and made more equitable in the future.
In October 2019 ARMA held a roundtable bringing together people working on chronic pain from a range of perspectives to discuss what might be done to improve the experience of people living with chronic pain.
The report of the roundtable sets out the key points made during the discussion of the issues and possible solutions, as well as recommendations for action.