Recently, NRAS members who signed up took part in a dance and movement programme for people living with RA with leading International Choreographer, Didy Feldman, over Zoom, with Didy leading from the Royal Ballet School.
Dutch-born Didy Veldman trained as a ballet and contemporary dancer in Amsterdam. She danced professionally for fourteen years and began choreographing in 1987. She has created new works nationally and internationally for Birmingham Royal Ballet, Rambert Dance Company, Les Grands Ballets Canadiens de Montreal, the Royal New Zealand Ballet and the Royal Ballet School in London, to name but a few. Didy has been teaching professional dancers and students internationally since 1994 and now runs her own dance company Humanoove. NRAS was delighted when Didy put together a dance and movement course for NRAS members living with RA, which she piloted with NRAS members in November.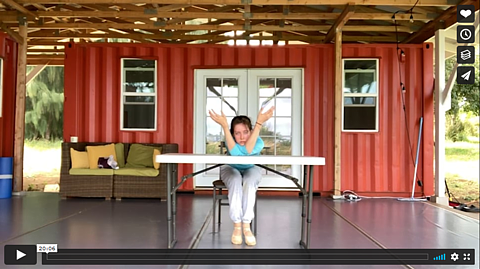 The classes all took place via Zoom (with Didy leading them from the Royal Ballet School) and they were a revelation for those that took part. There were participants of all ages and abilities, some with very limited movement and others who were able to take on more challenging moves. Didy made sure she took into account everyone's capabilities and she inspired and motivated all those taking part to find a freedom of movement in their bodies that they hadn't experienced before.  To see them grow in confidence over the four-week programme was a joy, and they loved how Didy introduced them to new music and had them waltzing around the room at the end of every class! Didy's gentle, but really encouraging, manner really worked with all the participants and they were all very sad when the programme drew to a close. Here's what one member said: "It got me moving in a way I love, wasn't too difficult for me to follow, was invigorating, joyful, I enjoyed (the) music and the variety. I also loved the 'free waltzing impro' at the end."
Didy was diagnosed with rheumatoid arthritis herself about eight years ago, but despite having two hip replacements, she continues her work and is very much a believer in movement to keep you well and strong to help protect your joints.  If you would like to see some of Didy's work, she created a very timely piece "A Screen Apart" which premiered in July as part of the inaugural World Ballet School Day.  It explores the theme of physical restriction and featured dancers from The Royal Ballet School and five other international ballet schools, and can be viewed here.