Restrictions to Treatments and Services, ARMA Survey 2015-16
ARMA carried out a survey between 12th November 2015 and 15th January 2016 on whether people with musculoskeletal (MSK) conditions had experienced any restrictions on accessing treatment and/or services. The survey was conducted using Survey Monkey and was distributed via the ARMA newsletter and through our membership.
Open and download the survey infographic as a pdf.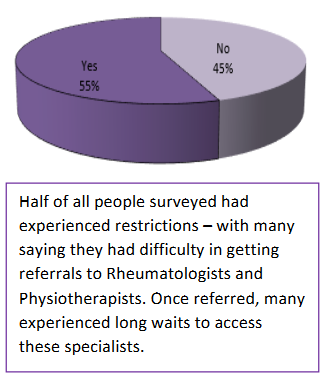 Key findings:
Lack of understanding within primary care – GPs had limited knowledge of conditions and the impact of MSK conditions on people's lives
Lack of referrals to specialists. This is especially important for people diagnosed with Inflammatory Arthritis who should receive specialist treatment within 3 months.
Inconsistent services across England, with some areas having no facilities such as Hydrotherapy pools or pain clinics available.
People who do not live near specialist clinics or health care hubs find it hard to access high quality care.
Lack of ongoing care and support for chronic conditions.
People described feeling dismissed, that their symptoms were not taken seriously.
Often only painkillers or anti-depressants were prescribed, not specialist medication.
People do not understand because they cannot see the condition ('invisible illness').
Lack of awareness of the disruption caused by delayed/cancelled operations (upon work/ family/childcare) – "life on hold".
Reliant upon charities rather than statutory care.
No help with accessing pain management courses.
Key recommendations:
All Health Care Professionals treating people with MSK conditions should be sufficiently equipped to offer quality care and refer as appropriate.
Commissioners to ensure the right services are provided for the needs of the local population. See ARMA's Key messages for commissioners document.
People with chronic conditions to have continuity and coordination of care
People living with MSK condition should be signposted to patient-led voluntary organisations for information and support