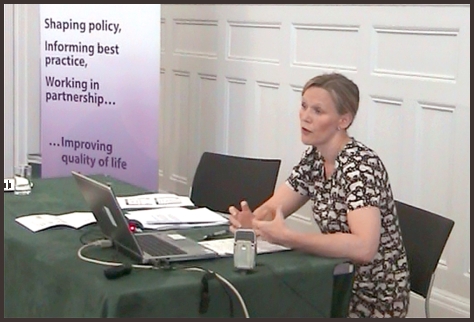 "What matters most":
Person-centred co-ordinated care for LTCs
AGM 2015
Having only recently been invited to establish a formal partnership with NHS England, and with our MSK Clinical Networks project entering a new and exciting phase, ARMA's 2015 AGM on the 9th of July was an excellent and extremely timely opportunity to have as our guest speaker Jacquie White, who is Deputy Director for Long-Term Conditions in NHS England with responsibility for improving the quality of life for people with Long-Term Conditions, Older people and those at the End of Life.
Download Jacquie White's slide presentation.
(PDF file, 456 KB)
Jacquie shared NHS England's vision for person-centred, coordinated care with ARMA, and why working in partnership with ARMA is very important to NHS England in achieving this vision.
Population and personalised healthcare – Muir Gray
AGM 2014
This year we were delighted to have as our keynote speaker Prof Sir Muir Gray, whose credentials are too many to list but is probably best described as an all-round healthcare and public health expert. His presentation on "population and personalised healthcare" touched on a number of aspects of healthcare and explored a range of key issues facing us today, including variation and our understanding of "value".
As the MSK National Clinical Director remarked afterwards, it also highlighted how a "networks" approach to care, as reflected in ARMA's clinical networks project, can best equip the MSK community to deliver a more joined-up and population-based approach to care.
See and download Muir Gray's slide presentation. (PDF file, 1.75 mb)
Audio
Download Lecture (25 mins, MP3, 23.2 MB) Download Q&A session (15 mins, MP3, 13.4 MB)
Delivering Integrated Care: What can MSK learn from diabetes?
AGM 2013
As part of 2013's ARMA AGM, our guest lecturer was Dr Partha Kar, Clinical Director of Diabetes at Portsmouth Hospital NHS Trust since 2009, and pioneer of the award-winning Super Six model. One of his main areas of passion is improving patient outcomes through the redesign of diabetes care to be more integrated over primary and secondary care. He spoke to us about the Super Six model and how he has gone about redesigning diabetes care in Portsmouth: managing CCGs, targets and reviews, the tendering process, policies, and affecting changes.
There is a lot that we in MSK and Rheumatology can learn from the Diabetes experience, and from Dr Kar's experience in particular, and obviously it's extremely relevant to our own Clinical Networks project.
The attached video (24 minutes) combines the audio from Dr Kar's talk with the slides [PDF] from his presentation. Based upon a lecture he presented to government, the talk is titled Integration: the proverbial unicorn, or not?