In common with other health conditions, there are significant health inequalities in MSK. As the single biggest cause of years lived with disability in the UK, any health body aiming to reduce inequalities in healthy life expectancy must address MSK health.
This resource page is designed to signpost to the most relevant and useful resources and information specifically about MSK health inequalities. For an overview of health inequalities in general we recommend the Kings Fund reading list on health inequalities. We have created this brief list of resources on children and young people's health equalities.
This is not intended as an exhaustive list of research on MSK health inequalities. We have prioritised those which have a UK focus, which draw useful findings or are most likely to be of value to those trying to address health inequalities. We have included some resources related to pain since this is a very significant aspect of long term MSK conditions. This is a vital area of work and we would encourage all MSK researchers to include a focus on inequalities in their work.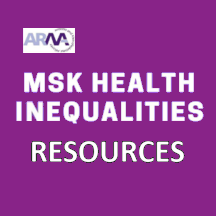 For an overview of the issues related to MSK Health Equalities see the report of the ARMA Roundtable in 2021.
The following resources are categorised according to factors contributing to inequalities.
Anything missing?
If you know of a resource which you think we should include on this page, please let us know.
We would also like your feedback on this page. Did you find it useful? How are you using it?
Social Deprivation
Steven Wyatt, Rowena Bailey, Patrick Moore, Matthew Revell (2022) The Lancet Regional Health – Europe,
Volume 21, 2022, 100475
With respect to hip-replacement surgery in England and Wales, policy ambitions to reduce healthcare inequities have not been realised. More potent policy interventions may be required to address inequities in the supply of hip-replacements.
Kay, R. S., Hall, A. J., Duckworth, A. D., & Clement, N. D. (2022) Musculoskeletal Care, 1– 9. https://doi.org/10.1002/msc.1711
Deprivation showed no linear correlation with early mortality risk but it was associated with an earlier age at presentation. More deprived patients were more likely to require further acute hospital admissions.
McLaughlin J, Kipping R, Owen-Smith A, McLeod H, Hawley S, Wilkinson JM, et al. (2022) PLoS ONE 17(6): e0270274. https://doi.org/10.1371/journal.pone.0270274
Body mass index policy introduction was associated with decreases in the rates of knee replacement surgery across localities that introduced policies. This affected all patient groups, not just obese patients at whom the policies were targeted. Data from this study show rates decreased most in more deprived groups.
NHS Confederation (September 2021)
Inequalities are now becoming evident in the backlog, with evidence suggesting that waiting lists have grown more rapidly in more deprived areas during the pandemic. This briefing recommends radical, whole-system changes to tackle the elective backlog inclusively.
Bhimjiyani, A., Neuburger, J., Jones, T., Ben-Shlomo, Y. and Gregson, C.L., (2018).
Osteoporosis International, 29(1), pp.115–124.
Deprivation is a stronger relative predictor of hip fracture incidence in men than in women. Despite public health efforts to prevent hip fractures, the health inequality gap for hip fracture incidence has not narrowed for men, and marginally widened among women.
University, K., Wilkie, R., Kaur, K. and Hayward, R.A., (2019).
Clinical and Experimental Rheumatology, 37(1), pp.44–48.
Consulters for osteoarthritis were more likely to develop physical and psychological comorbidities than those without osteoarthritis. Analyses indicated that mechanisms to comorbidity differ by socio-economic strata and a need for different approaches to prevent comorbidity for consulters with OA from different levels of deprivation.
Gustafsson, K., Kvist, J., Eriksson, M., Dahlberg, L. and Rolfson, O., (2019).
Osteoarthritis and Cartilage, 27, p.S498.
Patients who enrolled in the national hip and knee self-management program in Sweden had higher socioeconomic status than the general population. This indicates that the program may be insufficient to target and attract those with potentially the greatest needs.
Verstappen, S.M.M., (2017).
Rheumatology, 56(7), pp.1051–1052.
People with low socioeconomic status (SES) could have delayed presentation to clinical practice, limited access to health care and limited prescription of more expensive drugs in some countries, which is dependent on health care insurance plans. In countries where access to health-care facilities is not influenced by SES, there is especially an association between SES and self-reported patient-reported outcomes, such as the HAQ, but to a lesser extent with disease activity indices.
Valentin G, Pedersen SE, Christensen R, Friis K, Nielsen CP, Bhimjiyani A, Gregson CL, Langdahl BL. (2020)
Osteoporosis International 2020 Jan;31(1):31-42
The study found a consistently increased risk of post-hip fracture mortality with low Socio-economic status (SES) across SES measures and across countries with different political structures and different health and social care infrastructures.
[collapse]
Ethnicity
Ethnicity
Healthcare Quality Improvement Partnership and British Society for Rheumatology, 2022.
This report presents data describing the association between ethnicity, experience of care as described by the quality standard for rheumatoid arthritis and clinician and patient-reported outcomes. The report provides recommendations and encourages providers and commissioners to consider how these can be delivered locally for the benefit of patients and the healthcare system.
Race Equality Foundation.
This report found that black and minority ethnic people are more likely to have some conditions, such as lupus and sickle cell disease, and have poorer experience of services. It includes some examples and suggestions of better practice, such as targeted and supported lifestyle interventions, better communication and a reduced dependence on medication.
Adebajo, A., Shikoh, S., Kumar, K. and Walker, D., (2017).
Rheumatology (Oxford, England), 57
As well as the social determinants of health that affect the general population, ethnic minority health is complicated by additional factors, including cultural beliefs and behaviours, education, language barriers, genetic phenotype and poor take-up of health education. Ethnic populations are distinct, and those with musculoskeletal conditions require targeted educational strategies.
Mehta, B.Y., Bass, A.R., Goto, R., Russell, L.A., Parks, M.L., Figgie, M.P. and Goodman, S.M., (2018).
The Journal of Rheumatology, 45(5), pp.717–722.
All studies noted more pain and worse function for blacks; although differences were statistically significant, they were not clinically significant. When measured, there are small differences in THA outcomes between blacks and whites, but most studies do not analyse/collect race. Future studies should address the effect of race and socioeconomic factors on healthcare disparities.
Elsharydah, A., Embabi, A.S., Minhajuddin, A. and Joshi, G.P., (2018).
Journal of racial and ethnic health disparities, 5(3), pp.632–637.
There is no significant difference in the type of anaesthesia received for total joint arthroplasty between African-American and white patients; however, there is a disparity in the postoperative outcomes in favour of the white patient group.
[collapse]
Sex, gender and sexual orientation
Sex, gender and sexual orientation
Blasco-Blasco, M., Ruiz-Cantero, M.T., Juárez-Herrera Y Cairo, L.A., Jovaní, V. and Pascual, E., (2017)
The Journal of Rheumatology, 44(10), pp.1429–1435.
This study highlights the vital complexity in which patients with SpA are immersed, especially for women in a country where a mix of new and traditional gender roles coexist. Awareness of its existence is crucial when professionals strive to provide healthcare focused on their well-being in addition to medical therapy.
Abd-Elsayed A, Heyer AM, Schatman ME. (2021)
Journal of Pain Research, 2021;14:3623-3625.
Within the LGBTQ population, unique challenges and social stress are linked with high levels of depressive disorders. These mental health challenges produce a population with high levels of chronic pain, worse outcomes, and unique challenges in treating them.
[collapse]
Health literacy and education level
Health literacy and education level
Mackey, L.M., Blake, C., Casey, M.-B., Power, C., K., Victory, R., Hearty, C. and Fullen, B.M., (2019).
Physiotherapy. 2019 Sep;105(3):346-353
Inadequate health literacy was associated with older age, being unemployed or retired, less education, lower income, increased comorbidities, being less likely to utilise allied health services, poorer disease-related knowledge, and poorer beliefs about pain. Inadequate health literacy is prevalent in chronic pain patients and may impact on the development of certain characteristics necessary for effective self-management.
Kiadaliri, A.A., Petersson, I.F. and Englund, M., (2019).
BMC musculoskeletal disorders, 20(1), p.83.
This study found substantial educational inequality in mortality from MSK disorders. Further research is needed to investigate underlying pathways driving these inequalities.
[collapse]
Multiple factors
Multiple factors
Office for Health Improvement and Disparities (November 2022)
National level data presenting trends and disparities in the prevalence of long term musculoskeletal conditions and their risk factors.
Public Health England. Public Health England ed, (2020).
This report explores the responses to questions on chronic pain in the 2017 Health Survey for England. It sets out the overall prevalence of chronic pain amongst the general population as well as identifying differences between sub-groups. It finishes with an analysis of the use of specialist pain services.
Ellis, B., Ly, M., Steinberger, S. and Chown, A., (2021).
Versus Arthritis
This report builds on the findings from the Health Survey for England 2017, providing an update on how chronic pain affects us as a nation and what we collectively need to do about the unseen, unfair and unequal burden of chronic pain.
Rachel Newton & Natasha Owusu
The Chartered Society of Physiotherapy, September 2022
Lack of access to high-quality rehabilitation worsens health inequities faced by marginalised communities. The report, based on a literature review, outlines how people in marginalised groups and communities, such as those from ethnic minorities, are not only more likely to live shorter lives but spend a greater proportion of their lives struggling with health difficulties and disabilities.
van der Velde, R.Y., Wyers, C.E., Teesselink, E., Geusens, P.P.M.M., van den Bergh, J.P.W., de Vries, F., Cooper, C., Harvey, N.C. and van Staa, T.P., (2017)
Bone, 94, pp.50–55.
A retrospective observational study in the UK between 1990 and 2012 in subjects 50 years or older, stratified by age, sex, geographic region and ethnicity. There were marked differences in anti-osteoporosis treatment rates by ethnicity and geographic location within the UK.
MacGregor, C. and Walumbe, J., (2021).
Pain and Rehabilitation – the Journal of Physiotherapy Pain Association, 2021(51), pp.1–4.
Guest editorial.
Craig, K. D., Holmes, C., Hudspith, M., Moor, G., Moosa-Mitha, M., Varcoe, C., & Wallace, B. (2020).
Pain, 161(2), 261–265.
This study addresses the challenges of providing access to pain management for people who have been socially and economically marginalized (People who are indigenous, recent immigrants or refugees, of colour, LGBTQ2S, less well educated, living with mental health or substance-use challenges, or have experienced violence and trauma, among others).
Cheng, A.L., Bradley, E.C., Brady, B.K., Calfee, R.P., Klesges, L.M., Colditz, G.A. and Prather, H., (2022).
American journal of physical medicine & rehabilitation, 101(3), pp.211–216.
Black race was associated with greater anxiety than white race and female sex was associated with worse physical function than male sex. Compared with race and sex, social disadvantage is more consistently associated with worse physical and behavioural health in patients with chronic musculoskeletal pain.
[collapse]
Children and Young People
Children and Young People
Costello RE, Kearsley-Fleet L, McDonagh JE, Hyrich K, Humphreys JH (2022) Rheumatology (Oxford). 2022 Sep 22:keac497. doi: 10.1093/rheumatology/keac497
Older age at diagnosis, female gender, less deprivation and a childhood diagnosis of uveitis were associated with continuing specialist care beyond age 18. 
Foster, H.E., Scott, C., Tiderius, C.J. and Dobbs, M.B., (2020).
Pediatric rheumatology online journal, 18(1), p.60.
It is important that MSK morbidity in both children and adults is included in strategic planning. Vast inequity exists and there are many children and young people who live in areas of the world with high burden of health care challenges, compounded by paucity of specialist care and limited access to treatments.
Lewis, K.A., Brown, S.A., Tiziani, S. and Carrasco, R., (2017). Journal of pediatric nursing, 37, pp.13–21.
Five categories of health determinants were found to influence outcomes: biology, individual behaviors, social environment, physical environment, and health services. Disparities continue to exist for racial and ethnic minority children with JA and those of low socioeconomic status.
Verstappen SM, Cobb J, Foster HE, Fu B, Baildam E, Wedderburn LR, Davidson JE, Ioannou J, Chieng A, Hyrich KL, Thomson W.
Arthritis Care Res (Hoboken). 2015 Mar;67(3):382-9. doi: 10.1002/acr.22466. PMID: 25187470; PMCID: PMC4737227.
Patients from a low-SES background report more problems with daily activities and have a lower perception of the consequences of the disease than patients from a high-SES background, warranting special attention from a multidisciplinary team.
Chang, J.C., Xiao, R., Burnham, J.M. and Weiss, P.F., (2020).
Pediatric rheumatology online journal, 18(1), p.88.
Despite similar rates of improvement over time by race, disparities in JIA outcomes persisted throughout implementation of a treat to target with clinical decision support (CDS) approach. More consistent CDS use may have a greater benefit among black children and needs to be explored further.
Russell, T., Dharia, A., Folsom, R., Kaki, M., Shumbusho, E., Fajardo, R.J., Shah, K., Shillingford-Cole, V. and Hogue, G.D., (2020).
Spine deformity, 8(4), pp.605–611.
Female patients had significantly greater Cobb angle measurements compared with male patients. Patients with government-supported insurance had significantly higher Cobb angles than privately insured patients but were both classified within the 'mild' range clinically and are likely not clinically significant. There was no correlation between income level and Cobb angle. Referral delay and Cobb angle severity did not vary by age, income, or insurance. A ?(2) analysis showed no association between Cobb angle and race.
[collapse]
Webinars
Webinars
Connect Health, March 2022
This webinar looked at who is most at risk, what we can do to improve health inequalities, health literacy, segmentation and coproducing interventions with patients and the voluntary sector.
ARMA, October 2020
Men with Axial SpA are more likely than women to experience changes to the bones and fusion, and thus they can be picked up using x-ray. Women are more likely than men to experience inflammation rather than fusion, which is visible on MRI but not on x-ray. What are the implications for diagnosis and management?
ARMA conference 2020
See second presentation by Dr Asim Suleman, GP in Bradford, GPwER Pain Management
[collapse]
Page last updated: Apr 2022.