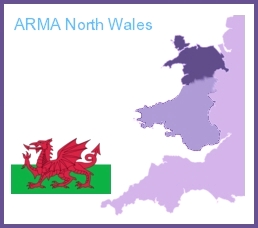 This is the page for the ARMA Network for North Wales. 
Local Contact:
Steve Mack-Smith
NWARMA Chairperson and convenor
nwarma2007@gmail.com
Signposting Services
BCU Health Board & North Wales ARMA
Over the last two years, North Wales ARMA Network Group (NWARMA) has developed a meaningful working relationship with the North Wales Betsi Cadwaladwr University Health Board (BCUHB). This relationship was formalised in the ground-breaking 'Memorandum of Understanding' launched on 31st July 2014.
In the next few weeks a 'Signposting' initiative will also be launched. This will include the distribution of posters to GP Surgeries, NHS outpatient Clinics and other relevant agencies. Details will be highlighted here on the ARMA UK website as soon as the documentation has been formally released for circulation. Patients receiving an appointment letter for an MSK-orientated NHS clinic in North Wales will also receive a flyer highlighting the range of ARMA Umbrella Organisations and the ways to obtain details of the support they are able to offer. Information will also be available – and has been for the last 12 months as a pilot – through the NHS Intranet for NHS personnel. For the general public the Health Board has created a webpage for NWARMA accessed through their Website. This webpage will hold information and links to ARMA and all ARMA Umbrella Organisations as well as NWARMA Terms of Reference and other relevant documentation. In conclusion, NWARMA wishes to thank BCUHB, its officers and staff for the opportunity to work with them in a meaningful partnership which will hopefully lead to an enhanced quality of life and experience for service users and professionals within the Musculoskeletal community.
Read more:
Memorandum of Understanding between NW ARMA and BCUHB (pdf document)
Wales NHS newyddion (Cymraeg)
Understanding between BCU Health Board and North Wales ARMA
Betsi Cadwaladr University Health Board and Arthritis and Musculoskeletal Alliance work together to improve services for patients.
BCU Health Board and the North Wales ARMA have agreed to work together to strengthen the planning and commissioning of services for chronic musculoskeletal conditions. The partnership was launched at an event at Llandudno Hospital on 31st July.
Signing a Memorandum of Understanding between the Health Board and the NW ARMA, Health Board Chairman, Dr. Peter Higson said: "We are delighted to be working with the North Wales Arthritis and Musculoskeletal Alliance to ensure that patients can contribute to the way we design and deliver our arthritis and musculoskeletal services."
"The involvement of key stakeholders and service users provides valuable support in shaping services so that they meet our patients' needs. We look forward to a long and positive relationship with North Wales ARMA."
Christopher Sweetnam, Chairperson of North Wales ARMA and a backcare service user and representative said: "This is the formalisation of the start of an important journey ensuring representation of service users and their support organisations in the development, planning, monitoring and evaluation of musculoskeletal services in North Wales."
MSK Services in Wales: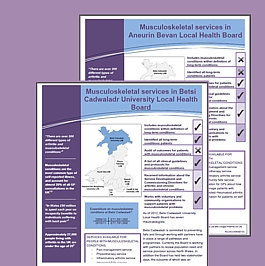 ARMA briefings on the quality of MSK services in the following Health Boards:
Useful and important contacts for North Wales:
Arthritis Care
www.arthritiscare.org.uk
email wales@arthritiscare.org.uk
Phone: 02920 444 155
Free Helpline: 0808 800 4050
or email helplines@arthritiscare.org.uk
Conwy Voluntary Services Council
Geraint Davies
Health & Social Care Facilitator
geraintdavies@cvsc.org.uk
www.cvsc.org.uk
BackCare
info@backcare.org.uk

BackCare is a national charity that aims to reduce the impact of back pain on society by providing information, support, promoting good practice and funding research. BackCare acts as a hub between patients, (healthcare) professionals, employers, policy makers, researchers and all others with an interest in back pain.
Arthritis Research UK
enquiries@arthritisresearchuk.org
Arthritis Research UK is the leading authority on arthritis in the UK, conducting scientific and medical research into all types of arthritis and musculoskeletal conditions. It is the UK's fourth largest medical research charity and the only charity solely committed to funding high quality research into the cause, treatment and cure of arthritis, which affects more than seven million people in the UK today and millions more worldwide.
The British Chiropractic Association
enquiries@chiropractic-uk.co.uk
The British Chiropractic Association (BCA) is the largest and longest-standing association for chiropractors in the UK. It was founded in 1925 and has a membership comprising over 50% of the UK's registered chiropractors. The BCA only accepts members who have graduated from a nationally or internationally-recognised college of chiropractic education, after a minimum of four years full-time training and ensures its chiropractors maintain high standards of conduct, practice, education and training. The BCA was a founder member of the European Chiropractors Union and the World Federation of Chiropractic. All BCA members are covered by a high quality professional indemnity insurance and the Association operates a robust professional standards and complaints management process.
North Wales Lupus Group
The North Wales Lupus Group is a Regional Group, that is part of Lupus UK. Lupus UK is the only national registered charity supporting people with systemic lupus and discoid lupus and assisting those approaching diagnosis. Lupus UK has over 6000 Members and a number of Regional Groups around the UK, which includes the North Wales Group who arrange medical talks, publish local newsletters, set up local occasions and organise fundraising events. Lupus UK also produces an informative national magazine with lupus articles, letters, reports, and photographs, and operates a strong Grant Programme for research purposes and welfare.
The aims of the North Wales Lupus Group are threefold; to provide support to Lupus sufferers and the newly diagnosed; to promote awareness of the disease within the medical community and the public; and to raise funds to support the search for a cure through research programmes.
Principal Contacts:
Judith Weston Tel: 01352 741854
Karen Newby Tel: 01248 440108
To find Regional Groups, visit the website www.lupusuk.org.uk
Facebook: www.facebook.com/northwaleslupus
National Osteoporosis Society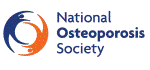 Telephone helpline: 0176 147 2721
Email helpline: nurses@nos.org.uk
General enquiries: 0176 147 1771
Web site: www.nos.org.uk.
It is estimated that around three million people in the UK have osteoporosis. This can lead to bones becoming fragile and breaking easily, resulting in pain, disability and even death. Much can be done to treat osteoporosis and prevent fractures. The National Osteoporosis Society is committed to helping people with osteoporosis live the lives they want to lead. The National Osteoporosis Society is the only UK wide charity dedicated to improving the prevention, diagnosis and treatment of osteoporosis and fragility fractures. The charity was established in 1986 and has grown into a respected national organisation with approximately 25,000 members and more than 50 members of staff.
Scleroderma Society
info@sclerodermasociety.co.uk
The Scleroderma Society was founded in 1982 to provide support for both people with scleroderma and their families. Everyone involved in the Society cares deeply about raising awareness and research for this rare condition and supporting those diagnosed with it. We are a well-respected and trusted organisation both in the UK and internationally, with a reputation for providing reliable and excellent information on scleroderma as well as for keeping members informed with up-to-date news and research from the world of scleroderma.
Our services include a free helpline, an annual conference, a network of local groups across the UK, a members' assistance fund, an online discussion forum, a popular quarterly newsletter and an extensive range of literature on scleroderma. We strive to increase awareness among the general public and the medical profession to improve early diagnosis and prognosis and participate in World Scleroderma Awareness Day. The Society, its volunteers and fundraisers, raise vital funds used for scientific and medical research into the causes and possible treatments for scleroderma.
Helpline: 0800 311 2756 9.00am to 9.00pm
The Scleroderma Society is a registered charity (No.286736) founded in 1982.
Recent Posts relating to Wales