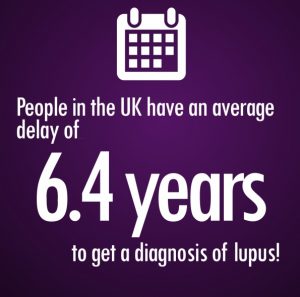 The recently published results of a LUPUS UK survey have revealed that lupus patients in the UK experience an average delay of 6.4 years between developing initial symptoms and reaching a diagnosis. In addition, the survey showed no change in this delay to diagnosis over recent decades despite efforts to improve identification and diagnosis of the disease.
The results of this survey, which was a collaboration between Manchester researchers and LUPUS UK, demonstrate that further work is needed to raise awareness of lupus amongst both healthcare professionals and patients in the UK to recognise the early symptoms and signs of the disease.
Almost three-quarters of individuals with lupus experience symptoms that limit their ability to carry out their daily activities, so a delay in diagnosis and treatment are having a significant impact on patients' long-term physical, emotional, and financial wellbeing. These findings suggest a clear agenda for further patient focused research to increase awareness of lupus, identify better and more effective therapies and improve support for patients and overall quality of life.
Studies have shown that lupus affects approximately 25-96 per 100,000 people in the UK, but it is not known how many more cases of lupus are currently undiagnosed due to poor awareness and a lack of specialist referrals.
A summary of the key findings from the survey can be found on the LUPUS UK website.