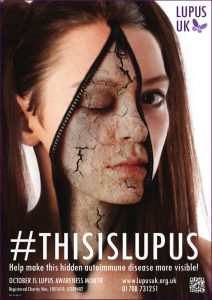 LUPUS UK has recently launched its campaign in build up to Lupus Awareness Month 2017 in October. The #THISISLUPUS campaign is encouraging people affected by lupus to share their experiences of the disease and the impact it has on their lives. By opening up about lupus more, we hope to show people something that they may not usually see – we aim to make the invisible visible.
We have decided to re-use a design for our campaign poster because it ties very well with our aims and generated a lot of conversation when we first used it five years ago. The 'zip' poster was designed by a lupus patient, Karen Fox, to highlight that lupus is often an invisible disease and that you cannot always know what is going on beneath the surface.
Click here to see the full poster.
The main focus of our campaign is on social media where we are encouraging people to share photos and videos about their experiences with lupus. We will be sharing these throughout October. We will also be using contributions to create a few videos which we hope will raise awareness of the impact lupus can have. You can learn more about this project and how to get involved at http://www.lupusuk.org.uk/thisislupus-video/.
East Midlands Lupus Information Day – Nottingham – Saturday 7th October 2017
The next LUPUS UK information day is taking place at De Vere Jubilee Conference Centre, Nottingham University, NG8 1BB on Saturday 7th October 2017. We have a number of expert medical speakers including:
Dr Frances Rees
Consultant Rheumatologist, Nottingham
Dr Ian Todd
Associate Professor and Reader, University of Nottingham
Alice Muir
Lupus Nurse Specialist, Nottingham
Mandy McCartney
Lupus Nurse Specialist, Leicester
Mr Dharminder Singh
Pharmacist, Keyworth Pharmacy
Tickets are free of charge and can be requested online at www.lupusuk.org.uk/east-midlands-info-day-2017.