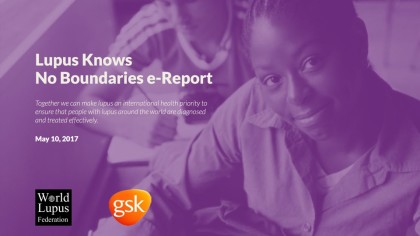 On World Lupus Day (May 10th) the "Lupus Knows No Boundaries e-Report," which has been co-created by the World Lupus Federation and Glaxosmithkline (GSK), was published.
The report brings together first-hand experiences of people with lupus, their advocates and those who treat them. It tells the real story of lupus, highlighting the ongoing physical and emotional needs of those who are affected by this incurable disease.
The report can be downloaded from the LUPUS UK website at  www.lupusuk.org.uk/world-lupus-day-report/.
Hampshire Lupus Information Day
On Saturday 6th May 2017, Hampshire Lupus Group hosted a lupus information day at the Guildhall in Winchester. The event was well attended with over 80 people present. The day featured expert speakers discussing a variety of lupus-related topics. These talks were recorded and videos are now available to watch online at www.lupusuk.org.uk/hampshire-lupus-day-videos/.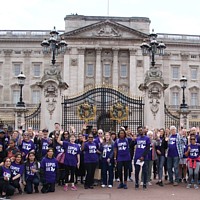 World Lupus Day Sponsored Walk in London
To coincide with World Lupus Day, LUPUS UK once again organised a sponsored walk in the centre of London which took place on Saturday 13th May. We had over 55 people taking part in the walk, raising awareness of lupus and handing out leaflets.
Click here for full-size photo of the walkers.
So far over £5,200 has been received in sponsorship raised from the event.