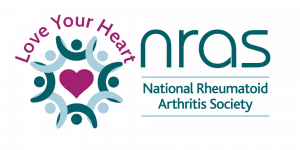 On Valentine's Day, NRAS was delighted to announce its upcoming initiative called 'Love Your Heart' – an interactive online programme that will enable people with RA to assess their cardiovascular risk and set personal goals to improve their cardiovascular health.
NRAS has collaborated with Dr Holly John, Consultant Rheumatologist at Dudley General hospital to create this programme. It is currently in testing phase and will be launched in April 2017.
Read more about the project here.
The Love Your Heart' logo is an animation. You can set the image moving by clicking it.
If that doesn't work with your device, please visit here to view it on NRAS's YouTube channel.