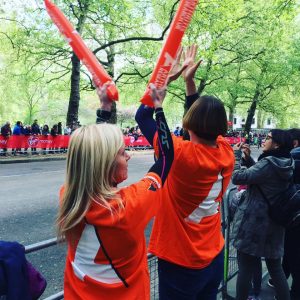 We are incredibly proud of the 65 runners who represented Arthritis Research UK at the London Marathon, many of whom were running for a loved one with arthritis or who have arthritis themselves. 28 members of staff alongside friends and family helped cheer our runners on from the side-lines at Mile 7 (Cutty Sark), Mile 12 (Tower Bridge) and Mile 25 (Birdcage Walk) and from inside the QEII where we held our post-race party. So far we have raised a total of over £87,000 and are very grateful to everyone who has donated.
Recruiting MP champions
Arthritis Research UK will be working hard during the run up to the election on 8thJune 2017, to ensure that as many prospective parliamentary candidates as possible commit to become Arthritis Champions. We want elected MPs to understand the impact that arthritis can have on people of all ages, and to champion relevant issues in parliament to fight for improvements. For example, we need MPs to ensure they protect the money available for science and research so we can keep investigating new treatment options. We also want the Government to support people with arthritis both in and out of work, and provide high quality health and social care for people with arthritis across the country. In order to recruit MP champions we need people across the country to email their local MP and explain the impact of arthritis. We will be doing this through our campaign pages www.arthritisresearchuk.org/campaign where we will put more information as soon as it is available.