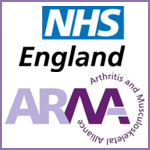 Friday 29 March 2019, 3:00pm
The importance of integrating psychosocial care into the treatment of long term musculoskeletal conditions is well established. What would this look like in practice? Using the example of the 3 Dimensions for Long Term Conditions service at King's Health Partners this webinar will cover why and how to provide and effective integrated service which benefits patients and works for clinicians. The 3 dimensions service is not an MSK service, but the approach would work equally well in supporting people with MSK conditions.
Depression is the most common co-morbidity among people with rheumatoid arthritis (RA), and the presence of depression can lead to a person's pain and overall disability being worse. Yet in a recent survey of people with RA, 2 in 5 had never been asked by a healthcare professional about their emotional or psychological wellbeing. Twenty two percent had a diagnosis of depression, but 37% of these were not receiving treatment for that depression.
The webinar will cover why we need to integrate mental and physical healthcare, common psychological reactions and symptoms. It will describe an example of psychosocial integration using a stepped care approach and explore the challenges and successes of joint working.
Presenter: Dr. Lindsay Ip, Principal Clinical Psychologist at King's Health Partners (KHP)
Who should attend: This webinar is for anyone involved in providing or commissioning services for people with long term musculoskeletal conditions.
Register for this webinar: https://zoom.us/webinar/register/WN_jpqsrzz5TyqbKDeH7YXFdw