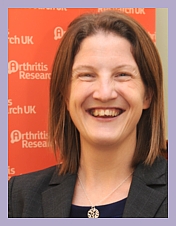 by Laura Boothman, Policy Manager at Arthritis Research UK
Planning is indispensable in many areas of life – we use it to manage projects, finances and time. Identifying goals, setting actions and discussing and sharing them with others can make us more likely to stick to our plans and achieve the outcomes we want. When it comes to planning to support our health, however, there is room for improvement; according to the latest survey data only 3% of general practice patients currently say they have a written plan. From a policy perspective, it's recognised that care planning, and other forms of self-management, will be an important part of future healthcare helping to address the growing burden of long-term conditions:  
The NHS's recent five year forward view said "people with long term conditions, who tend to be heavy users of the health service, are likely to spend less than 1 % of their time in contact with health care professionals. The rest of the time they, their carers and their families manage on their own." It asserts "… we will do more to support people to manage their own health – staying healthy, making informed choices of treatment, managing conditions and avoiding complications."
The NHS Mandate includes a specific objective for the NHS become "dramatically better at involving patients and their carers, and empowering them to manage and make decisions about their own care and treatment." Since 2013, it has included the ambition that everyone with a long term condition will be offered a personalised care plan as one way of achieving this.
  At Arthritis Research UK we have been considering the role of care planning for people with musculoskeletal conditions. Around 10 million people across the UK have a musculoskeletal condition, such as rheumatoid arthritis or osteoarthritis. These are mainly long-term conditions, and many people live with their painful and fluctuating symptoms for decades. Musculoskeletal health is an important contributor to overall health and wellbeing, and symptoms including limited mobility and pain can make the impact of other long-term conditions, such as diabetes, cardiovascular disease or depression worse. It's clear that there is huge potential and need for self-management and care planning by people with musculoskeletal conditions – but to what extent is this already happening? And how can we ensure that people with musculoskeletal conditions are included as these approaches are more widely implemented?  
The independent inquiry into patient centred care in the 21st century commissioned by the RCGP this week proposed that "… the greatest gains of care planning may come from those who are at an earlier stage of their condition, where there is greatest scope for prevention of deterioration." It recommended that "Practices should follow a personalised care planning approach for all those patients in need of proactive care, with particular focus on at risk groups such as those with learning disabilities and patients with multiple conditions."
  How do people with musculoskeletal conditions, or people with musculoskeletal conditions and other morbidities, fit into this wider spectrum? Our care planning and musculoskeletal health report builds on the outputs of a policy workshop, interviews with people with arthritis and healthcare professionals who have used care planning, and reviews of policy, clinical guidance and musculoskeletal standards of care. It considers aspects of the care planning process as it relates to people with musculoskeletal conditions including the healthcare professionals involved, the settings in which care planning can take place, and indicators to help identify people likely to benefit.   Our analyses of national survey data indicate that, despite the Mandate commitment, just 12% of people with a musculoskeletal condition currently have a care plan. There is an opportunity for many more people to benefit. The report calls for:
Systems to deliver care planning to be designed to include those with musculoskeletal conditions and to identify and address musculoskeletal needs in patients with any long-term condition.
Professional bodies to ensure that the continued training of healthcare professionals involved in care planning includes core musculoskeletal skills.
  What is also evident is that the way people go about planning, and the types of plans they use, are as individual as the goals they want to achieve. To work well, care plans must be personal to us, in format as well as content. As one person I interviewed told me "it can give you a framework to build on – although it's not one size fits all". For more information, or a copy of our report, please visit our website or contact us at policy@arthritisresearchuk.org.