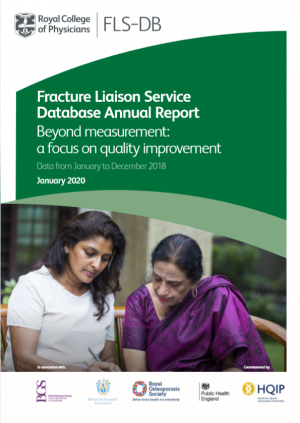 The Fracture Liaison Service Database Annual report 2020, published in January by the Royal College of Physicians, provides the third national benchmark for the performance of FLSs at the patient level.
There were 58,979 of an expected 322,660 patients who sustained a fragility fracture in 2018 across England and Wales were reported on in the Fracture Liaison Service Database (FLS-DB). The FLS-DB used eleven key performance indicators (KPIs) for this report to measure secondary fracture prevention.
With over 300,000 fragility fractures in England and Wales detected every year in patients aged 50 years and over (NHFD, 2019), secondary fracture prevention is more important than ever. The FLS-DB is still the only national secondary fracture prevention patient-level audit in the world, with 69 FLSs having submitted patient data from over 180,000 patients across the NHS in England and Wales.
Key Findings and Recommendations
With an increase of data completeness since 2017 and 63% of FLSs improving in at least one KPI, the FLS-DB encourages steady but rapid growth in the general monitoring of FLSs and their participation in the FLS-DB with an initiative to improve regular interaction. The importance of the commissioners and local health boards' involvement in the effectiveness of their FLSs are more significant than ever. The FLS-DB is a resource for all FLSs, alongside NHS Trust and Health Boards to improve the effectiveness of post-fracture care delivery and reduce the number of preventable fragility fractures in this high-risk patient group. It is encouraging to see the constant improvement, but more still needs to be done to meet the needs of people with fragility fractures. The FLS-DB have produced an online improvement repository with a breakdown of the KPIs used for this year's report, alongside a series of resources available for all to utilise and refer to. In order to support FLS teams with quality improvement, the ROS has developed a continuous quality improvement toolkit, helping to drive delivery of best and effective care for people with osteoporosis.
Read the full FLS-DB annual report.