June 4 – 8 2018 is Dietitians Week 2018, where the British Dietetic Association and its members and allies celebrate the work of dietitians. This year's theme is "Dietitians Do Prevention", which highlights the important role that dietitians have to play in prevention and public health.
We know nutrition and hydration underpin so much of our health and getting it right can reduce the impact of illness, aid recovery, or prevent some diseases and conditions altogether.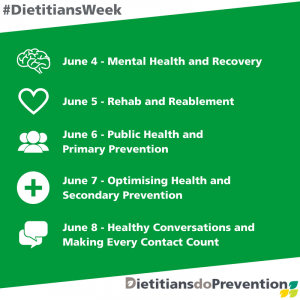 The theme is timely. Across the UK, prevention and public health are increasingly recognised as vital to improving health, and perhaps more critically, reducing pressures on our health and care services. It features prominently in NHS England's Five Year Forward View, in the most recent frameworks from NHS Scotland and the Northern Irish Health and Social Care Service and is embodied in the principles of the Wellbeing of Future Generations (Wales) Act. It has been made clear by everyone from Marmot to the NHS Confederation that we need to strengthen prevention and that it should be everybody's business.
Musculoskeletal problems are one of the many conditions which can be prevented or at least alleviated with effective dietetic intervention. That might be helping people to lose weight so they place less strain on their joints or working with older people at risk of osteoporosis to ensure they get the calcium and vitamin D they need. Of course, prevention is more effective when done as part of a multidisciplinary team, and many of the examples that the BDA will be sharing throughout Dietitians Week don't just involve dietitians, but include doctors, nurses, physiotherapists and others.
Prevention takes many forms and goes by many names, and it is not just those working in public health that do it. Whether you're having a healthy conversation or making every contact count, supporting rehabilitation or reducing hospital admissions, celebrate the way that you do prevention. We can't let the terminology get in the way of sharing best practice or spreading good ideas. We'd love you to tell us about it as part of Dietitians Week! Get in touch via dietitiansweek@bda.uk.com