Action is needed to tackle £646 million burden of bone, joint and muscle problems, a new ARMA report says.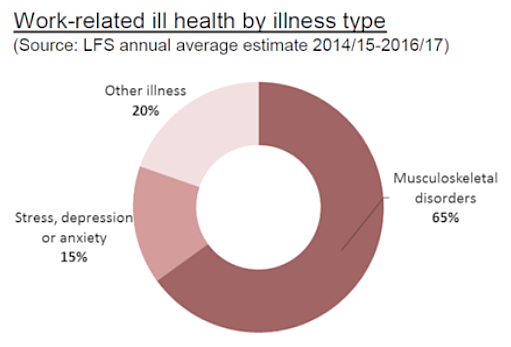 Industry leaders called for action to tackle the huge burden of bone, joint and muscle conditions on people in the construction industry, in a report released today (30/05/2019). Physically demanding work means the construction industry has one of the highest rates of musculoskeletal disorders costing £646 million every year – accounting for over three-quarters of all occupational ill-health costs.
The report from the Arthritis and Musculoskeletal Alliance (ARMA) followed a roundtable meeting of industry leaders. The key issues identified were:
Prevention – requires proactivity and understanding people's motivations to change behaviour.
Early support helps bone, joint or muscle disorders, but people first need to feel comfortable talking openly about them, not as a sign of weakness and without fearing job loss.
SMEs – In construction, small companies employ many workers, including transient workers. Solutions could include building control officers, who go on every site, flagging issues with smaller companies, or larger employers influencing supply chains to prioritise this.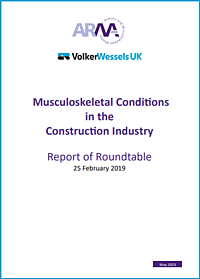 Adrian Shah-Cundy from VolkerWessells UK, a speaker at the roundtable said,
'VolkerWessels UK are proud to be lead sponsor on this initiative. We recognise the need to refocus efforts on the continued issue of MSDs in construction, as part of our responsibility to maintain a workplace free from injury and ill-health. This is a challenging subject due to the physical nature of our activities but, as the figures demonstrate, as an industry we still have a way to go to practically improve working practices and preventive measures. We welcome the opportunity to work with, and learn from, a diverse range of stakeholders for the betterment of health and wellbeing. '
Industry leaders concluded that all employers needed:
a musculoskeletal disorders action plan, developing awareness of bone, joint and muscle problems beyond just manual handling;
awareness of MSDs and to encourage open conversations and support when employees are struggling;
routine monitoring of employee musculoskeletal health and wellbeing.
The full report, Musculoskeletal Conditions in the Construction Industry, is available here from 30 May 2019.