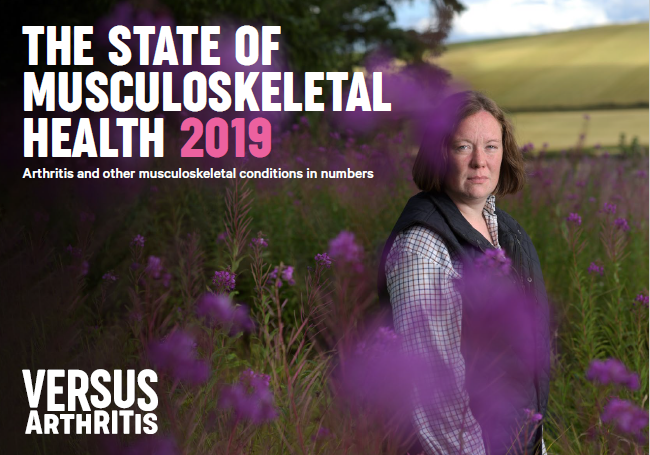 by Sophia Steinberger, Health Intelligence Analyst and Jonathan Canty, Policy Officer, Versus Arthritis
How many people have musculoskeletal conditions in the UK? How are these conditions affecting their lives? What is the breakdown by age, gender, and condition? What is the impact of MSK conditions on work, health services, and the wider economy?
This month Versus Arthritis published the annual State of Musculoskeletal Health 2019 to help answer these questions and many more. The report presents a collection of the best available data on the prevalence, risk factors, comorbidities, and impact of MSK conditions in the UK, to help further the understanding about the people living with and affected by these conditions.
Musculoskeletal (MSK) conditions such as arthritis and back pain affected an estimated 18.8 million people across the UK in 2017. They accounted for more than 22% of the total burden of ill health (morbidity) in the UK, and low back and neck were the biggest cause of ill health overall across all ages.1 While these conditions are incredibly common, many people affected are still not receiving the recognition and support they deserve and need.
The State of Musculoskeletal Health is a resource for health professionals, policy makers, public health leads and anyone interested in MSK health. We believe that with the best information you can build awareness, make more informed decisions, feel more confident and ultimately help more people with MSK conditions.
Read the full report here, which includes powerful short stories from people with arthritis themselves.
1 Global Burden of Disease Collaborative Network. Global Burden of Disease Study 2017 (GBD 2017) Results. Institute for Health Metrics and Evaluation (IHME), Seattle, 2018.