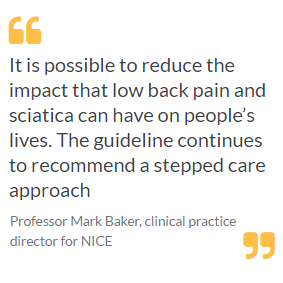 NICE's updated guideline on low back pain and sciatica recommends exercise in all its forms – for example stretching, strengthening, aerobics or yoga – as the first step in managing the condition.
The guideline also recommends encouraging people to continue with normal activities as far as possible. However the guideline says massage and manipulation should only be used with exercise because there is not enough evidence to show they are of benefit when used alone.
The updated guideline has been expanded to include people with sciatica, a painful condition typically caused by irritation or compression of the nerves which run from the lower back, through the legs and down to the feet.