by Professor Michael Hurley, Clinical Director,
Musculoskeletal Programme, Health Innovation Network South London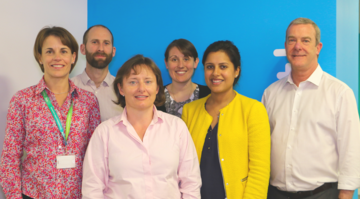 Along with many others in the musculoskeletal community, I get a tired of hearing about other long term conditions which continuously feature in the headlines – both in national media and NHS policy. Poor old 'common' joint pain is neither sexy nor headline-grabbing, but we all know how much it impairs the quality of life – none more so than the people who suffer it.
In the musculoskeletal programme of the Health Innovation Network (South London's Academic Health Science Network http://www.hin-southlondon.org/clinical-areas/musculoskeletal) we have been focusing on improving community management of osteoarthritis, or chronic joint pain, for the past couple of years. We have three main projects: the ESCAPE-pain programme, education and training and a new 'Osteoarthritis Advisor' role.
ESCAPE-pain stands for Enabling Self-Management and Coping with Arthritic Pain using Exercise (www.escape-pain.org | @escape_pain). It is a group-based, 6-week rehabilitation programme that combines exercise and education. It has now been implemented at 25 sites in England, both in clinical physiotherapy departments, and in leisure centres. Participants learn how to manage chronic joint pain using exercise and coping techniques, and we have seen just how powerful the learning and interactions of the group are in changing health beliefs and increasing physical activity. Don't just take our word for it; look at what some of the 2000 participants who have undertaken the programme say: https://player.vimeo.com/video/151535343. We also have substantial evidence that it will save the health system money – a lot of money. We are currently finalising an app that will allow many more people to access and benefit from the programme.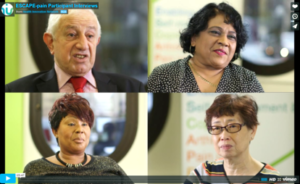 Early on, we recognised how important it was to improve the training and education of the whole workforce in primary care. So we delivered a short training programme (devised by the Arthritis Research UK and Royal College of General Practitioners) to more than 200 GPs across 10 South London boroughs. They reported improved confidence in their ability to manage people with OA and less inappropriate referrals. Because it used a "train the trainer" approach, where participants who attend the programme can easily be trained to deliver it, we now have 7 GPs who are keen to continue to run these courses and educate their colleagues.
We also realised that leaving it to poor struggling GPs is not an option. People with benign joint pain get stuck in the bottleneck of primary care; because there's insufficient manpower to deliver effective care, people receive little useful advice or adequate support, and consequently suffer unnecessarily for many years. So we are training other allied health professionals, health trainers and other disciplines to give more people better advice. In particular, we have also been delighted to observe how the provision of care NICE guidelines – simple advice and education delivered by an "Osteoarthritis Advisor" rather than a GP – can help reduce people's joint pain, body weight and improve physical activity levels. This approach has huge potential for allied health professionals to elevate the burden on overstretched GPs, simplify over-complicated care pathways and deliver effective evidence-based care to large numbers of people.
Our projects show consistent improvements in pain, in function, wellbeing, and quality of life, and reduce health and social care costs. We are really excited about working with the health and social care systems across South London to scale-up and develop these projects so that many more people can lead better lives.
For more information contact us at the musculoskeletal clinical area at HIN South London.