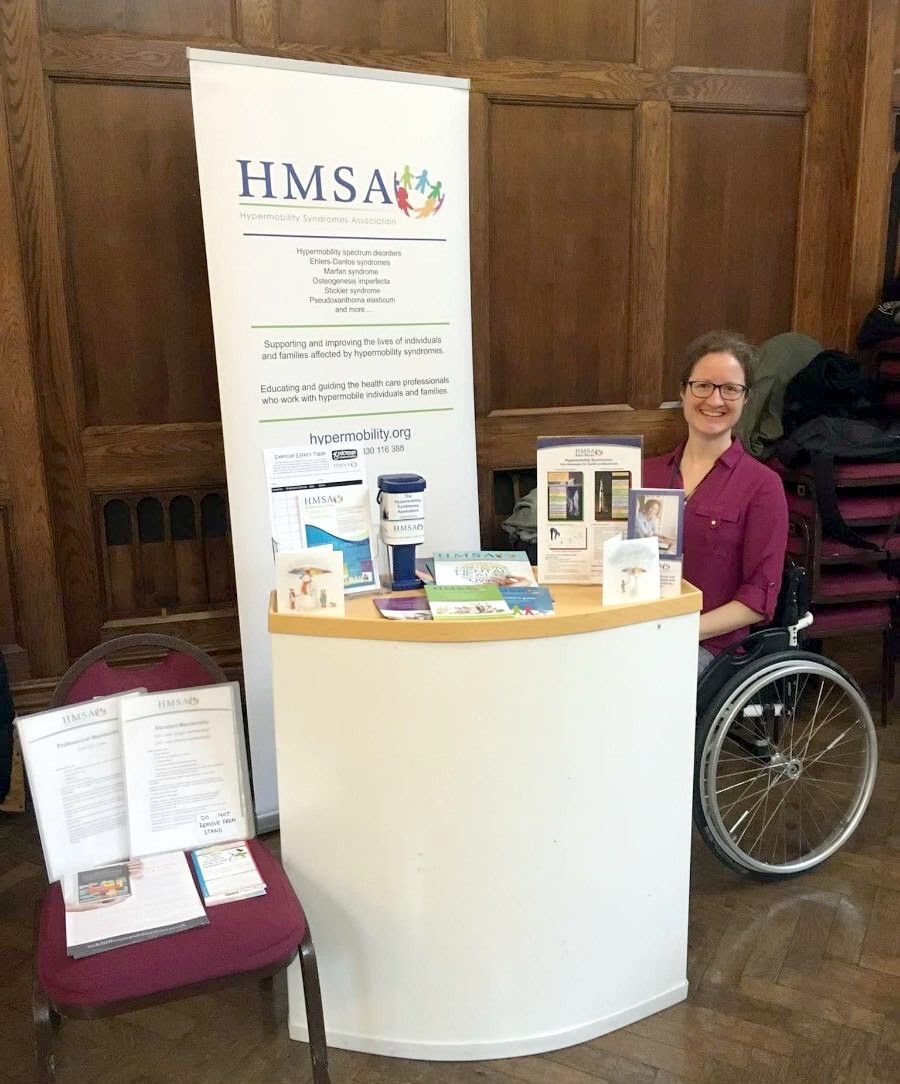 HMSA Chair, Hannah Ensor, was at St Thomas's Hospital in November, manning an HMSA stand to make contact with a number of staff and patients. Hannah spread the HMSA's awareness and positive self-management approach, and as always, the message was well received and the HMSA gained several new professional followers as a result!
January #HypnOT event
In January HMSA has a new live event for members. #HypnOT is the brainchild of HMSA's resident Occupational Therapist Jo Southall, and Kim Clayden, our Social Media Manager and a qualified Solution-Focused Psychotherapy & Clinical Hypnotherapist.
Starting on 6 Jan 2020 at 7pm, this member's only course will cover the neuroscience behind anxiety, sleep, weight and pain management, and some practical tips and advice from Jo and Kim on managing these. As well as being healthcare professionals, they are also expert hEDS & PoTs patients. The sessions will run weekly from the 6 January through to the 3 February, all starting at 7pm and lasting roughly an hour. Each event will be streamed via the HMSA Members Only Facebook Group.
To be involved in the live stream and to have your questions answered live, you will need to be a member of the HMSA Charity. There are lots of other membership benefits which include two journals a year and enabling us to continue supporting the hypermobile community. For information on how to join the HMSA, simply click here for a standard membership or here for a family membership.
Study of Diagnosed prevalence EDS and Hypermobility Disorders in Wales
Last month saw the publication of a study looking at the NHS data held in Wales on patients with Ehlers Danlos syndrome or any of the conditions formerly known variously as Joint Hypermobility syndrome, Benign Joint Hypermobility, Hypermobility Syndrome Disorder, and so on. The study found that as a whole this group is far larger than previously estimated and that hypermobility related health issues are far from uncommon. The Ehlers-Danlos Society raised concerns almost immediately that the paper could be misinterpreted to mean that the rare types of EDS are not rare. The paper's authors have recently responded to this criticism, you can read the original paper, the Ehlers-Danlos Society response, and the reply from Drs Demmler, Rheinhold, Atkinson, Choy and Lyons on the BMJ open website.