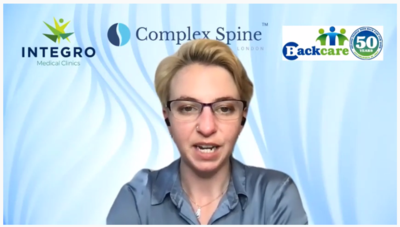 The basis of the webinar was to provide a closer insight into back pain whatever the cause and to evaluate alleviating back pain from three different angles, these being: therapies, minimally invasive surgery and medication, with each area represented by an expert in the field.
Dr Brian Hammond PhD, Vice President of the National Back Pain Association (more commonly known as BackCare) discussed therapies; Dr Basil Almahdi, Consultant Pain Specialist analysed surgery and minimally invasive treatments of problems caused by degenerative spinal disease; and Dr Anthony Ordman, past president of the pain medicine section of the Royal Society of Medicine, reviewed medicines with a special interest in cannabinoids.
BackCare was delighted to gain sponsorship recently for the Pain Management webinar from Integro Clinics.
Some 97 people attended the webinar and a further 180 people asked for a copy of the recording. The webinar can be viewed here.