Once a month, ARMA distributes a newsletter that provides up-to-date information and news, articles and updates from members and relevant health policy groups. It is a valuable source of information for health professionals interested in musculoskeletal disorders and arthritis news.
If you are not already on our mailing list and would like to receive future newsletters please add your email address to the subscribe box or visit our Contact Us page and send us a message to indicate your interest.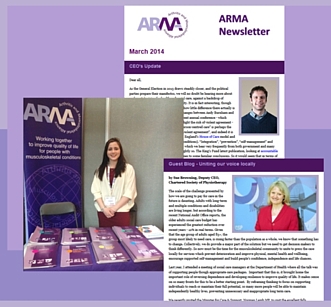 Terms and Privacy
By subscribing you agree to receive our newsletter materials and agree with our Privacy Policy. Your e-mail address will be used only to send the newsletter. We respect your e-mail privacy and will never sell, rent or exchange your e-mail address to third parties/associates.
You can unsubscribe from our newsletter or leave any project at any time by letting us know or by using the unsubscribe link at the foot of the newsletter.
You can also edit or reconfirm your subscription via this link.
To view our latest and recent editions please click on the links below.
(these links will open in a new window)
2018
December 2018
November 2018
October 2018
September 2018
August 2018
July 2018
June 2018
May 2018
April 2018
March 2018
February 2018
January 2018
2017
December 2017
November 2017
October 2017
September 2017
August 2017
July 2017
June 2017
May 2017
April 2017
March 2017
February 2017
2016
Christmas 2016
December 2016
November 2016
October 2016
September 2016
July 2016
June 2016
May 2016
April 2016
March 2016
February 2016
January 2016
2015
Christmas 2015
October 2015
September 2015
August 2015
July 2015
June 2015
May 2015
April 2015
March 2015
February 2015
January 2015
2014
December 2014
November 2014
October 2014
September 2014
August 2014
July 2014
June 2014
May 2014
April 2014
March 2014
February 2014
January 2014
2013
Dec & Nov 2013
October 2013
Sept 2013
August 2013
July 2013
June 2013
May 2013
April 2013
March 2013
February 2013
January 2013
2012
December 2012
November 2012
October 2012