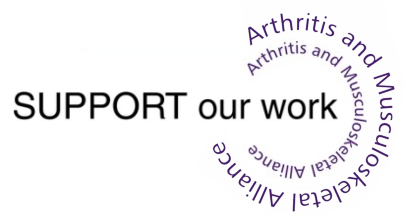 Support the collective voice

for the musculoskeletal community and keep our webinars, newsletter and publications free to access.

The Arthritis and Musculoskeletal Alliance (ARMA) is an umbrella body bringing together patient and professional organisations to give a collective voice across the breadth of MSK health. We engage with public policy, services (commissioning), service delivery and practice. We focus on cross-cutting issues where our ability to harness the expertise of a range of members means we can have a stronger voice.
Here's what people say about our work:

"Excellent [webinar] content and great CPD opportunity. Thank you for putting together and running."

"Can I just congratulate ARMA for the regular updates and information during this expectational time."

"I'm just writing to thank you for the newsletter which I find useful in keeping me abreast."

"The two Policy Position Papers were very helpful in summarising the evidence and making recommendations."

"We have been very impressed by what [ARMA] is achieving."
If you would like to support our work, become an ARMA supporter and make an annual donation.
We will ensure that you receive our monthly e-newsletter and occasional supporter updates on ARMA's work (you can opt out at any time).
Gold Supporter £100 per year.
Or £10 per month:


Silver Supporter £50 per year.
Or £5 per month:


Bronze Supporter £25 per year.
Or £3 per month: