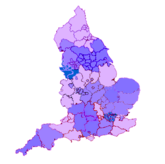 Commissioning musculoskeletal services in England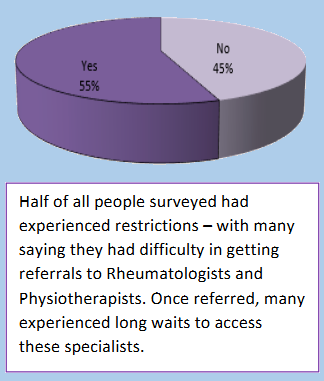 Restrictions to Treatments and Services, ARMA Survey 2015-16
ARMA has conducted a survey on whether people with musculoskeletal (MSK) conditions have experienced any restrictions on accessing treatment and/or services. For infographics and full details of the survey, click here.
Selected findings:
Lack of understanding within primary care – GPs had limited knowledge of conditions and the impact of MSK conditions on people's lives
Lack of referrals to specialists. This is especially important for people diagnosed with Inflammatory Arthritis who should receive specialist treatment within 3 months.
Inconsistent services across England, with some areas having no facilities such as Hydrotherapy pools or pain clinics available.
Selected recommendations:
All Health Care Professionals treating people with MSK conditions should be sufficiently equipped to offer quality care and refer as appropriate.
People with chronic conditions to have continuity and coordination of care
People living with MSK condition should be signposted to patient-led voluntary organisations for information and support
Our lifestyles can be more unhealthy than we think. Start the fight back to a healthier you.
One You is a ground-breaking new campaign from Public Health England to help adults across the country avoid future diseases caused by our lifestyles. Avoidable, unhealthy behaviours are responsible for around 40% of all deaths in England, and costs the NHS more than £11 billion a year.

To stay healthy, it's recommended to do at least 150 minutes of moderate activity every week. 'One You' provides practical tools and encouragement for adults to reappraise their lifestyle.
Click here for the facts and stats, press releases, media details and the Health Quiz.
ARMA has a new telephone number: 0203 856 1978
Please note our new Skype-for-Business office number.

ARMA is the alliance providing a collective voice for the arthritis and musculoskeletal community in the UK.
Together, ARMA and its member organisations work to improve quality of life for all those living with musculoskeletal (MSK) disorders in the UK.
We aim to foster co-operation between charities and professional organisations, working to enhance understanding and mutual support between individuals and organisational bodies.