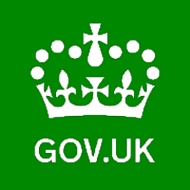 ARMA responds to the Government's Prevention Green Paper
ARMA welcomes the publication of the Advancing our health: prevention in the 2020s consultation document by the UK Government, which has been much anticipated.
Read ARMA's response to the Government's Prevention Green Paper.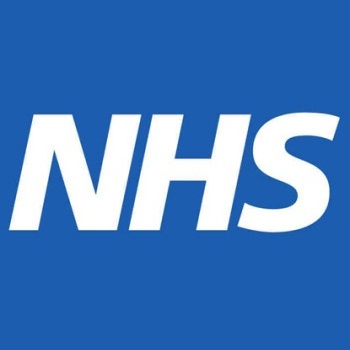 Musculoskeletal core offer for Local NHS plans
The impact of musculoskeletal ill-health on individuals, NHS and the economy is widely recognised including in the NHS Long Term Plan: "Longer-term health conditions also make an increasing contribution to the overall burden of disease. Mental health, respiratory and musculoskeletal conditions are responsible for a substantial amount of poor health and place a substantial burden on the NHS and other care services."
Effectively addressing musculoskeletal conditions will therefore be important in delivering on the ambition of the long-term plan. ARMA's Core Offer document aims to help those developing local NHS plans to understand what's needed to deliver evidence-based, cost-effective services for good MSK population health, and to help those looking to improve services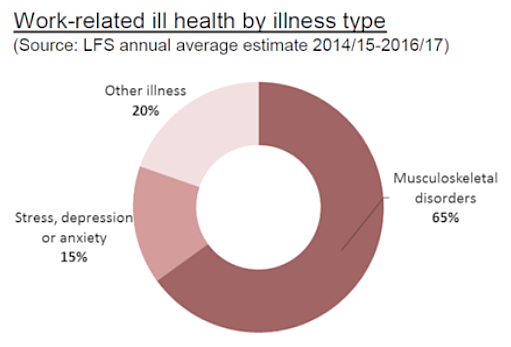 Construction Roundtable Report
Action is needed to tackle £646 million burden of bone, joint and muscle problems
At the policy roundtable held in February, industry leaders agreed key issues and solutions for tackling the huge burden of bone, joint and muscle conditions on people in the construction industry. Physically demanding work means the construction industry has one of the highest rates of musculoskeletal disorders – accounting for over three-quarters of all occupational ill-health costs.
Some of the key issues were prevention, early support and SMEs.
Read more about ARMA's Report of Roundtable: Musculoskeletal Conditions in the Construction Industry.

Call for mental health to be prioritised for musculoskeletal patients
To mark Mental Health Awareness Week (13-19 May 2019) we have released a new report looking at the impact of mental health on people with arthritis and other musculoskeletal (MSK) conditions.
Our roundtable event in March brought together leaders from Mind, NHS England, Arthritis Action, and other health charities to look at ways to improve access to effective psychological support for MSK patients. From this collaboration, ARMA has produced a report covering patient experience, the role of IAPT, case studies and recommendations.
Read more about the Report of Roundtable on Mental Health and Musculoskeletal Conditions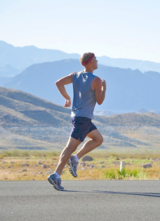 The MSK Webinar Series:
ARMA webinars are delivered in partnership with NHS England and aim to spread good practice and innovation to support improvements in the lives of people with MSK conditions.
Aimed at a multidisciplinary audience, they include good practice, service design and showcase innovation. Our webinars are usually delivered by people who have themselves implemented improvements, giving us a chance to ask advice from those who have experienced the challenges.
Topics are varied: from how to implement the national back pain pathway or how to set up an MSK service to how to support patients with MSK conditions to be more active.
Check what we have coming up and view the recordings of past webinars.
Musculoskeletal Conditions and Mental Health – Policy Position Paper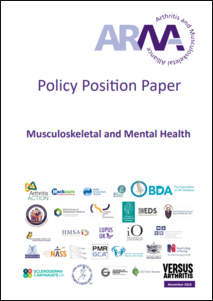 For the working age population in the UK, musculoskeletal and mental health conditions are the most common health conditions.
35.2% of all working aged disabled people in the UK experience musculoskeletal conditions only;
20.2% experience mental health conditions only;
and 17.2% experience both.
In policy directives and in practice, these conditions are often dealt with separately, although we are beginning to see some change now. The reality for people is that there is a relationship between their mental health and musculoskeletal conditions. However, the delivery of care for people is still often built around the individual conditions, rather than the way the person experiences them.
Please take the time to read our Policy Position Paper: Musculoskeletal and Mental Health document.
MSK Knowledge Hub
The MSK Knowledge Hub is a searchable resource library for those working to support people with musculoskeletal conditions.
Part of the partnership between ARMA and NHS England, the Hub will allow the MSK community to debate innovative ideas and good practice, share resources, network and celebrate success. This knowledge base is aimed at professionals, not patients, and is free for anyone to search.
If you have musculoskeletal-related articles or documents you'd like to share – and they meet our criteria – please register with the Hub and then 'Submit a Resource'.
Once registered you can also access the interactive MSK Forum enabling people to discuss and share views.
Musculoskeletal Core Capabilities Framework
This is a new framework (launched 31/07/2018) aimed at practitioners who will be the first point of contact for adults presenting with undiagnosed MSK conditions.
The Musculoskeletal Core Capabilities Framework sets out the essential skills and knowledge necessary for staff with a role as a first point of contact in different types of service provision and settings, and will provide healthcare services with clear steps and actions to support local health economies, improving service delivery and patient outcomes.Read more about the Musculoskeletal Core Capabilities Framework.
Supported Self-Management – Policy Position Paper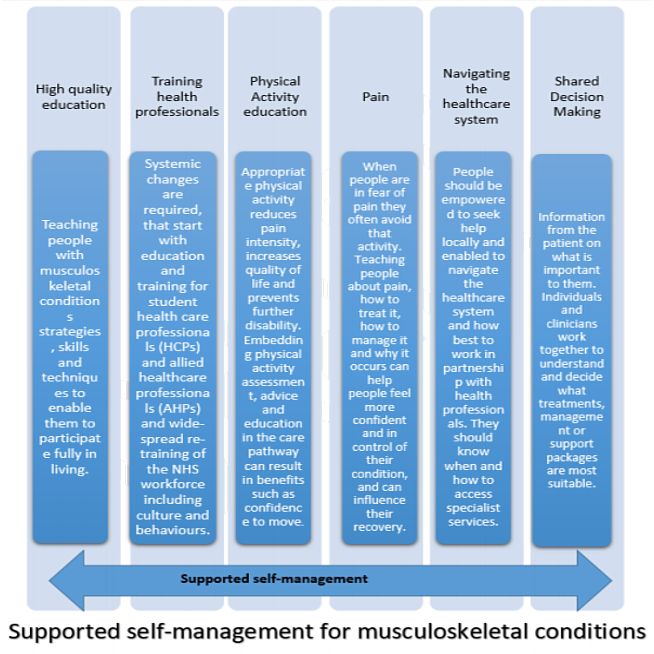 ARMA policy teams and CEOs have collaborated to agree a Policy Position Paper on Supported Self-Management for People with Arthritis and Musculoskeletal Conditions. The Policy Position Paper sets out recommendations for change.
The evidence identifies the importance of patients as partners in their own care. While people with musculoskeletal conditions can play a pivotal role in their condition, most are simply unaware of the difference they can make. That's why the Alliance believes people should be supported to take a proactive role in their health, to live well, feeling confident and in control of their condition with supported self-management. Currently, supported self-management sits at the side-lines yet it works – it improves quality of life and clinical outcomes. In the paper, recommendations include a whole system, integrated approach across the care pathway, joining up public health messaging and clinical care.
Please take the time to read our Supported Self-Management for People with Arthritis and Musculoskeletal Conditions document.
ARMA welcomes Government roadmap for work and health, but emphasises need for rapid progress
The Arthritis and Musculoskeletal Alliance welcomed the announcement today of Improving Lives: the future of work, health and disability, but emphasises the need for fast progress for people with musculoskeletal conditions. Improving Lives sets out plans to transform employment prospects for disabled people and those with long term health conditions over the next 10 years.
Conditions of the bones, joints muscles – musculoskeletal conditions – are the leading cause of people's inability to work and disability in the UK. Less than two-thirds of working age people with a musculoskeletal condition are in work.
Sue Brown, chief executive of ARMA said, "I very much welcome the Government's firm recognition of the need to address musculoskeletal conditions and work. We look forward to working closely with Government to ensure the details are right, but it's vital that there is rapid progress if we are to curb the growing impact of musculoskeletal conditions on people's working lives.
"The specific proposals in the document for a Challenge Fund need to ensure that musculoskeletal conditions are a high priority in their activity."
Public Health England's Active 10
Over 6.3 million adults aged 40 to 60 do not achieve 10 minutes of continuous brisk walking over the course of a month and are missing out on important health benefits.
The new One You physical activity campaign is encouraging adults to build 10 minutes continuous brisk walking into their day as a simple way to improve their health, which could save the NHS over £0.9 billion per year.
Read the evidence reviewed by Public Health England and learn about the Active 10 app.
Policy Position Paper on Prevention
of Musculoskeletal Conditions
ARMA highlights a need for transformation so that Care and Public Health systems go beyond merely tackling musculoskeletal conditions when they arise, to promoting good, lifelong musculoskeletal health.
Click here to access the document.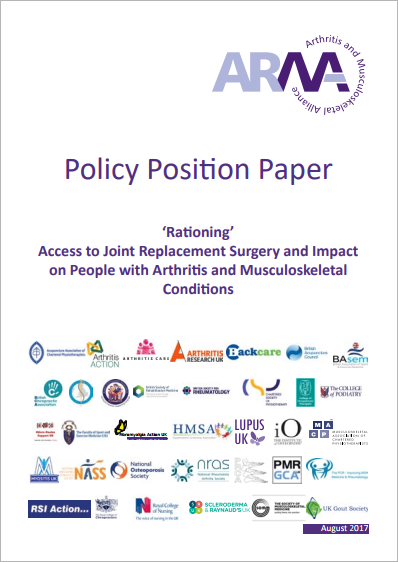 Policy Position Paper on Joint Replacement Surgery
The Arthritis and Musculoskeletal Alliance is extremely concerned about increasing restrictions to access NHS services for joint replacements and the impact on people with musculoskeletal conditions.
ARMA's Policy Positions
ARMA published two policy position papers in 2016:
Like previous documents, these are the result of input from across our membership and our community, and contain recommendations for policy makers.
Please share widely.

Musculoskeletal toolkit launched to help employers support people with musculoskeletal conditions
ARMA worked with Public Health England and Business in the Community to develop a new toolkit for employers in the workplace, which launched at the Health and Wellbeing at Work Conference in the NEC today (7 March 2017). Musculoskeletal conditions are an important consideration for businesses as they are a leading cause of pain and disability in the UK, affecting many employees.
The toolkit draws together information for employers to support staff in the prevention, early identification, management and adaptation for people affected by musculoskeletal conditions. The musculoskeletal toolkit is a simple step-by-step guide dealing with back, neck, muscle and joint pain at work. It will help employers access the best free resources that are available for their organisation and employees.
You can access the toolkit from the Business in the Community website.
World Health Organisation landmark action plan will tackle tidal wave of musculoskeletal conditions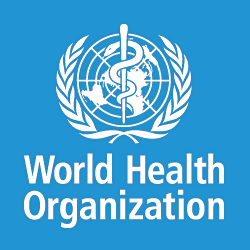 The Arthritis and Musculoskeletal Alliance, an alliance of prominent health charities, professional and research bodies, today [Thursday 15th September 2016] welcomed a ground-breaking World Health Organisation action plan to tackle musculoskeletal conditions in Europe.
[Read more]
The Action Plan was also welcomed internationally by the Global Alliance for Musculoskeletal Health, calling on the European Region to implement the Action Plan and all countries of the world to adopt a similar approach to tackling musculoskeletal conditions.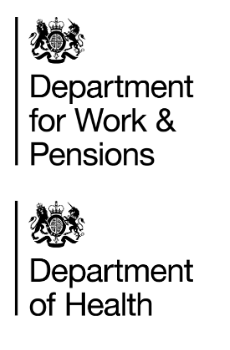 Response to Improving Lives: The Work, Health and Disability Green Paper
UK Government consultation
ARMA welcomes the recognition in the Improving Lives: The Work, Health and Disability Paper of the need to address musculoskeletal conditions and work.
Musculoskeletal conditions are among the commonest causes of people's inability to work and, as evidenced in the Global Burden of Disease study (2015), are the single biggest cause of pain and disability in the UK. Less than two-thirds of working age people with musculoskeletal conditions are in work. MSK conditions are the leading cause of sickness absence, resulting in 30.6 million working days lost each year and one in five visits to the GP. They are associated with anxiety and depression. The impact of MSK problems on work is predicted to increase and with people working into older ages, the impact on work will also increase.
We look forward to working with the Joint Work and Health Unit and ARMA members to provide more detailed support from the musculoskeletal community to realise the opportunities that the Green Paper proposes.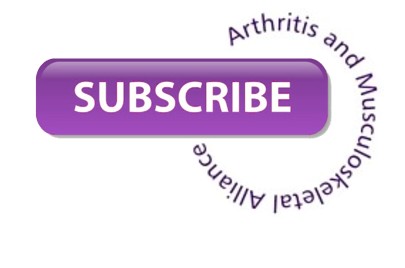 ARMA is the alliance providing a collective voice for the arthritis and musculoskeletal community in the UK.
Together, ARMA and its member organisations work to improve quality of life for all those living with musculoskeletal (MSK) disorders in the UK.
We aim to foster co-operation between charities and professional organisations, working to enhance understanding and mutual support between individuals and organisational bodies.