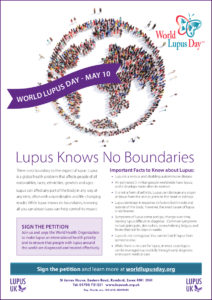 World Lupus Day will take place on 10th May 2016. This is the first year that the event has been organised by the World Lupus Federation, a coalition of lupus patient organisations from around the world, united to improve the quality of life for people affected by lupus. LUPUS UK is proud to be a member of this new coalition.
The theme of this year's campaign is 'Lupus Knows No Boundaries'.  This is to highlight lupus as a global health problem that affects people of all nationalities, races, ethnicities, genders and ages. Lupus can affect any part of the body in any way at any time, often with unpredictable and life-changing results.
Click here to see the full-size  'Lupus Knows No Boundaries' poster for WLD 2016.
One of the main aims of the campaign is to encourage people to sign a petition to help make lupus a priority for the World Health Organisation. You can sign the petition at http://worldlupusday.org/petition.html
For more information about how to get involved with the World Lupus Day campaign in the UK, please go to the World Lupus Day page on the Lupus UK site.