GP Awareness Campaign takes a huge leap forward
The next stage of NASS GP awareness campaign was launched at the British Society for Rheumatology conference on 23 April 2013. This is the UK's leading rheumatology event and the launch was very well attended. Meeting-in-a-Box is a CD-ROM which was jointly developed by NASS and AbbVie Ltd. It contains all the resources that rheumatologists would need to run our Back Pain Seminar. This seminar aims to improve understanding of inflammatory vs. mechanical back pain in primary care and the aim is that rheumatologists will use this CD-ROM to run an event in their area. Those attending the seminar would gain an improved understanding of how to recognise inflammatory back pain and AS and therefore be able to make quicker and more appropriate referrals to rheumatology. Good news for people with AS!
We are delighted to say that the launch was very successful and around 250 copies of the CD-ROM were taken by delegates. We hope that many of these people will run the seminar in their area, and we will follow up to see who does.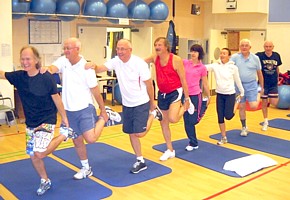 World AS Day Saturday 4 May 2013
When Debbie Cook joined NASS as Director almost 2 years ago she pledged to raise awareness of AS, particularly within the medical profession and among the general public. It's been no easy task but we had much success in 2012 and more recently have really started to see results.
In the first few months of 2013:
Now we want to ask you to take the time to pass on the AS message on World AS Day. If everyone in the UK with AS passed on some information about AS to just 2 people on the day we will have informed more than 400,000 new people about AS!
NASS's Top 10 messages about Ankylosing Spondylitis:
1.       Ankylosing spondylitis is pronounced an-ki-low-sing spon-de-lie-tis and is called AS for short.
2.       AS is a painful, progressive form of inflammatory arthritis. It mainly affects the spine but can also affect other joints, tendons and ligaments. 
3.       Ankylosing means fusing together. Spondylitis means inflammation of the vertebrae. Both words come from the Greek language. Ankylosing spondylitis describes the condition where some or all of the joints and bones of the spine fuse together. Other areas such as the eyes, bowel, lungs and heart can also sometimes be involved with AS.
4.       AS affects an estimated 200,000 in the UK — that's twice the number who have Parkinson's Disease or multiple sclerosis. 
5.       Research is still ongoing into the genetics of AS but researchers believe that up to 20 different genes must be involved.
6.       Symptoms usually begin in early adult life, with the average age of diagnosis being 24.
7.       There is currently no cure for AS. It is managed by a combination of pain relief and stretching exercises.
8.       AS, especially in its early stages, can be an invisible condition. People with AS are often battling on a daily basis against pain, stiffness and fatigue. This can lead to feelings of isolation, particularly just after diagnosis.
9.       As well as the inevitable pain of the disease, AS often generates feelings of frustration and fear. To help them adjust to their diagnosis it is important that they have the support and encouragement of family, friends and work colleagues.
10.   Some common problems for people with include: pain and stiffness in the mornings make it hard to get going; sitting in one place can lead to pain and stiffnesss and not having the same amount of energy or stamina and getting fatigued easily.
Get the AS conversation started by wearing one of our pin badges or wrist bands. And don't forget to let us know how you get on. You can email us with a comment of a photo from World AS day.