Last minute sign-up for Workout at Work Day 2013…
CSP members have just hours left to sign up for this year's Workout at Work Day, with registration closing at 5pm on Friday 17 May.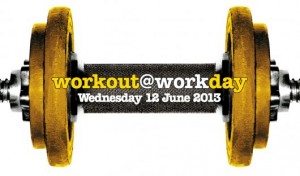 More than 250 events involving over 600 members have been registered for Workout at Work Day, which takes on 12 June. But we still want more members to get involved and encourage people in workplaces across the UK to develop healthier work habits.
The CSP is also encouraging members to use W@WD as a way to influence and build relationships with local decision makers, such as councillors, public health leads or service planners and commissioners. For more information on how to do this, contact a member of the CSP's Public Affairs team.
Register now for W@WD 2013 and download the CSP's member resources pack which contains ideas to help you plan an event.
If you've already registered, please help the CSP by keeping your event details up to date. You can update your registration form by logging into the W@WD iCSP network and clicking 'Update my event details'.
About W@WD
W@WD aims to promote physical and mental wellbeing in the work environment. The CSP is encouraging members to run an event on 12 June 2013 to help employees become more physically active in a variety of workplaces.
The day is also an opportunity to highlight the business benefits of having a healthy and physically active workforce and is a chance to remind people that overworking and poor posture could lead to musculoskeletal disorders and stress.
Aviva has recently begun a three year partnership with the CSP across the Society's Fit for Work initiative, which includes a programme of activity and resources designed to improve the wellbeing of the UK workforce and to highlight the importance of physiotherapy in preventing and reducing work related ill-health and sickness absence.
A look back at W@WD 2012
In 2012, 340 members ran over 300 events across the UK.  These included:
a 'flash mob' exercise class led by former Olympian Daley Thompson, organised by staff at Chelsea and Westminster Hospital
an outdoor exercise class, led by former England rugby star Jonathan Webb, at Bristol's Temple Quay ampitheatre
a range of activities, including Tai Chi and yoga classes, for staff on the Newcastle Metro, organised by Newcastle Sports Injury Clinic
an 'Olympic-themed' activity day for members of the public in Exeter's Bedford Square, organised by physiotherapists at North Devon Healthcare Trust.
The day is a great way to promote physiotherapy to the general public. Last year's W@WD secured more than 450 pieces of media coverage, including high profile pieces on BBC1 Breakfast, BBC Radio 2 Jeremy Vine Show and articles in the Daily Mail, Daily Telegraph, The Times and Sunday Telegraph.
90 per cent of members said that participants greatly enjoyed their event and every member who completed the survey said that W@WD was very effective in raising the profile of physiotherapy.
An overwhelming majority of participants said W@WD increased their knowledge of the importance of exercise (78 per cent). 81 per cent also said they were very/extremely likely to build more activity into their daily lives as a result of taking part.
How can I get involved?
You can get involved by running an event in your workplace, in a public space or at another employer in your area (making sure you get permission for your activities). Don't do it all alone, share the workload with other CSP members or put on joint events.
What can I do?
Download the W@WD member pack for ideas and suggestions.  Be creative, but keep it manageable. Please ensure the event is within your scope of practice and that you have appropriate insurance.
If you are a support worker organising or running a W@WD event, you will be covered by your normal employers vicarious liability, provided you have gained agreement from your line manager and are competent to carry out the activity.  Appropriate supervision should also be in place. For more information about support worker involvement in W@WD, please contact Catherine Smith on 0207 314 7843.
What benefits are there for employers?
Please view our W@WD for employers page for more information on the benefits to businesses of taking part.
W@WD is an opportunity for employers to encourage staff to be healthier, take proper breaks and get exercise. This can help reduce sickness absence and the expense that brings.
Involving staff in fun activities and encouraging them to do regular physical activity can also improve productivity and morale in the workplace.
So sign up and join hundreds of other CSP members who will be promoting healthy lifestyles and wellbeing at work at major national and international companies, the NHS, and in local communities.
Please note:
If you are working with other CSP members to organise your event, only one of you needs to complete the registration form. This person will be the CSP's main point of contact and will be responsible for keeping us updated on how your event is progressing. Your colleagues can sign up for the W@WD iCSP network, where they can share ideas, ask questions and get updates about the day.
Don't forget to Tweet
If you are on Twitter, please tweet details of what you are doing on Workout at Work Day, along with pictures from your event, to #WorkoutAtWork.
More information
For more information about W@WD, 'Fit for Work', or the Move for Health campaign, please contact the CSP press office on 0207 306 1111