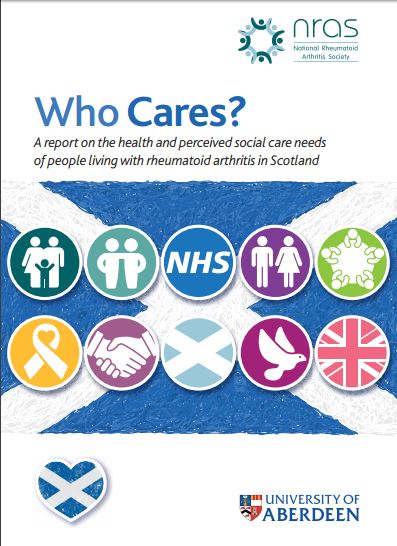 89% of rheumatoid arthritis (RA) patients in Scotland say condition affects their daily activities yet unaware of eligibility for help with care and support from their local council.
The National Rheumatoid Arthritis Society (NRAS), today publishes 'Who Cares? A report on the health and perceived social care needs of people with rheumatoid arthritis in Scotland'. NRAS conducted a survey of 387 people with Rheumatoid Arthritis (RA), to gain greater understanding of the wider care and support needs of people with RA in Scotland and the factors which contribute to them.
There are nearly 690,000 people across the United Kingdom with RA and 40,000 in Scotland alone. This is expected to rise to over 42,000 by 2020. With the new imperative to integrate health and social care across the UK, it was important for NRAS to explore the prevalence of co-morbidities; the impact of RA on work/occupation and how complex care needs were being met.
Read full press release by clicking here. Go to the Who Cares? Report.