In January-February this year Arthritis Care Scotland (ACS) undertook a survey of people living with arthritis, which would inform the ACS manifesto for the Scottish Parliament elections.  In addition to questions about health and support, the survey asked respondents what they wanted from the next Scottish Parliament. The result is five key steps:
Improved understanding by MSPs and the public of what it means to live with arthritis
Support for specialist NHS services
Support for helping people with arthritis to manage their own condition, particularly in a community environment
A flexible and humane system of welfare benefits which takes into account the reality of living with arthritis
Recognition and support for children and young people living with arthritis.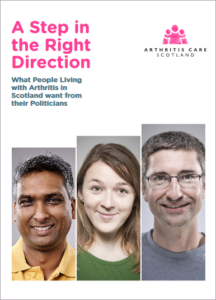 These are, of course, top line asks and such a broad spectrum needs to be broken down into more detailed actions and campaigns. Post-election (i.e. after 5 May), this will be the focus of ACS's work, in partnership, of course, with others including ARMA. The initial focus will be on the capacity of the new health and social care integration arrangements and the new powers on welfare benefits to deliver services and support for people living with arthritis.
However, arthritis remains a relatively under acknowledged condition in the work of the Scottish Parliament. A quick comparative search on the parliament's website shows that since the parliament opened for business arthritis is mentioned at only a quarter of the rate of diabetes. This means that we need to continue to push on the broad front. People with arthritis tell us that they continue to feel invisible and that their condition is not understood. Over the next five years we need to use every available opportunity to make the condition and the people who live with it visible, understood and better supported.
Read and download the ACS Manifesto from the link below:
A Step in the Right Direction: What People Living with Arthritis in Scotland Want from their Politicians.