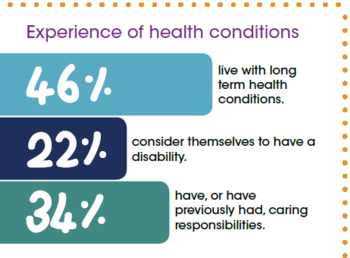 National Voices' Wellbeing Our Way programme brings together charities, community organisations and individuals. We work together to develop culture and practice across the voluntary sector to enable people with health needs to live well, in ways that matter to them.
As Wellbeing Our Way reaches its two year milestone, this Impact Report provides a valuable opportunity to reflect on our journey to date: what's working well, what we've learnt, and what's next for Wellbeing Our Way. It offers an overview of our activities and progress, and shares our impact as reported by those involved in the programme.
79% of participants report that their knowledge, skills, confidence and motivation have increased as a result of their involvement in Wellbeing Our Way; and 75% report that their organisation has developed its practice and attribute this at least in part to their involvement in the programme.
Open and download Wellbeing Our Way's Impact Report 2016.