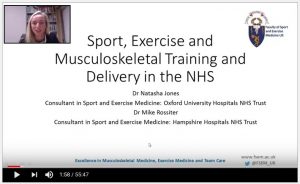 NHSE/ARMA Webinar Gains Traction on YouTube
The "Sport, Exercise and Musculoskeletal Training in the NHS" webinar has received almost 300 views on YouTube; please continue to share and promote this important resource which highlights physical inactivity as the largest public health problem of the 21st century and outlines how Exercise Medicine and Musculoskeletal Medicine, delivered within the NHS, can have a positive impact on public health. View the Webinar here.
FSEM (UK) Responds to Draft WHO Global Action Plan on Physical Activity
The Faculty of Sport and Exercise Medicine (UK) has responded to a recent consultation by the World Health Organisation on physical activity. The Faculty's key points cover: the scale of action needed to address physical inactivity across the globe; coherence of policy on physical activity in the UK; consistency in teaching and supporting health professionals to talk to their patients about physical activity; and how the plan addresses hard-to-reach and vulnerable groups and giving physical activity in schools equal prominence to academic subjects. Read the Faculty's full response here.
FSEM (UK) Responds to NICE Consultation Update on Physical Activity and the Environment
The Faculty of Sport and Exercise Medicine (UK) has made recommendations on the NICE guideline which covers how to improve the physical environment to encourage and support physical activity. Expected to be published in March 2018, the FSEM (UK) response supports; active travel and the creation of new cycle and footpaths, asks that all health professionals receive mandatory training on the benefits of physical activity and how to prescribe physical activity safely to their patients, including those with a disability, utilising the local resources available to them and recommends that every school child, from school entry to leaving, should have at least 30 minutes of structured physical activity during every school day.