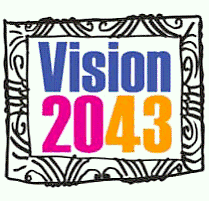 The Vision 2043 competition invites people from around the world to enter an innovation, design or idea that can transform the lives of people with Rheumatic Musculoskeletal Disorders now and in the future.
Please help EULAR promote this competition to encourage as many entries as possible. You can adapt, edit and translate the details below to promote the competition on your website, in your newsletters and via your social media networks.
The Competition launches on the World Arthritis Day website on
12th October 2013
EULAR are looking for practical and visionary ideas and innovations that will help create a more inclusive world now and in the future. As well as examples of existing ideas and innovations that make life easier for people with RMDs, original ideas and visions for the future can also be entered.
Anyone over 18 years of age can enter the Vision 2043 competition by taking a photograph, creating a conventional or digital artwork, shooting a video or recording a soundtrack that shows the idea, innovation, design or grand plan they think could transform the lives of people with RMDs. Images, videos and soundtracks must be accompanied by a short summary of the entry written in English.
Competition Winners
The Global online winner will receive €300 (Euros) or equivalent
  EULAR member-country online winner will also receive €300 (Euros) or equivalent and the
opportunity to attend the 2014 EULAR Autumn Conference for people with Arthritis and
Rheumatism in Europe (PARE), which will take place in Zagreb, Croatia in November 2014.
  Two runners-up will each receive a cash prize of €50 (Euros) or equivalent.
Additionally, up to seven entries will be chosen by the Vision 2043 jury.  EULAR will use entries to the completion to promote activities that will support people with RMDs.
It's easy to enter!
Develop your idea and create your artwork.
Write a short statement in English about how your entry will help improve the lives of people with RMDs.
Take a photograph of original artworks.
Login onto the World Arthritis Day website and upload your photo, video or soundtrack into the Vision 2043 gallery.
The Vision 2043 competition launches on World Arthritis Day, Saturday, 12 October 2013 and will close on Friday, 25 April 2014. Judging will take place in May 2014 and the winners will be announced in June 2014.
For more information please do not hesitate to contact Your World Arthritis Day Team