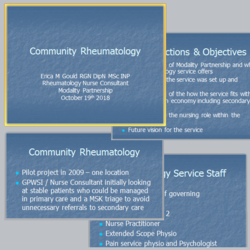 You can now see the video from our recent webinar in the Musculoskeletal Networks series:
Commissioning for Quality: Community-based Rheumatology Service
Presented by Erica Gould, Nurse Consultant at Community Rheumatology Service Modality Partnership, the webinar outlines how a community-based rheumatology service can provide effective management of rheumatology patients, with benefits both to the patients and the usage of clinical resources.
Findings from the pilot study demonstrated that patients requiring disease-modifying anti-rheumatic drugs (DMARDS) can easily be managed in a community setting. A community setting with provision of the specialist skills provides patients with local, more convenient care and reduced disengagement. It also optimised the use of local resources – for example, moving some of the routine follow-up activity for rheumatology patients (such as drug monitoring) would undercut the tariff by 30%.
Visit the ARMA Webinars page to watch the presentation and discussion.