NRAS is seeking to consolidate and build upon 18 months of ground work done by the charity to set up the new children's service by the appointment of a new Youth and Family Services Manager.
The role is hands-on and the Manager will be responsible for the development of a programme of work for children, young people and families affected by JIA as well as a range of activities to support the health professionals who treat JIA, in line with our operational plan for 2015 and beyond.
Read more about the role and how to apply on our website.
NRAS Celebrates Membership of 5,000 People!
Last week NRAS was delighted to receive our 5000th Member, a fantastic achievement for the charity's 14th year supporting people living with rheumatoid arthritis, their families, carers and health professionals. It was in late 2012 that NRAS reached 4,000 members so this next milestone had been eagerly anticipated.
Membership of NRAS is open to anyone affected by rheumatoid arthritis or healthcare professionals involved in treating the condition so, if someone you know isn't yet a Member of NRAS, please do encourage them to join today.


NRAS Hosts Successful 'Meet the Patients' Event in the Scottish Parliament
On January 29th, NRAS hosted a very successful constituents' drop-in session in the Scottish Parliament. People with RA from across Scotland met with politicians, clinicians and each other to raise awareness of the disease. The event was kindly sponsored by Duncan McNeil MSP, Convener of the Health and Sport Committee, and was attended by over 15 Members of the Scottish Parliament (MSPs).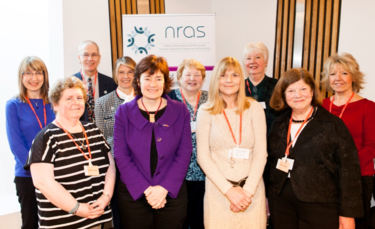 The event highlighted the need for early diagnosis and treatment and also drew attention to the important role played by members of the multi-disciplinary team.
A number of NRAS members had the chance to meet with their local MSPs and let them know about the issues for rheumatology services in their area. The event went very well and has helped NRAS establish connections with a number of politicians and raise the profile of RA in Scotland.
To read more about the event visit our website.