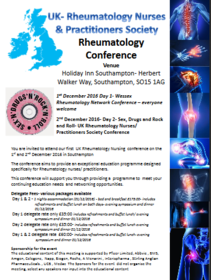 ARMA Portsmouth are pleased to announce the 1st Wessex Regional Meeting and Conference of the UK Rheumatology Nurses & Practitioners Society. It will take place on the 1st and 2nd December 2016 in Southampton.
As part of the conference, there is also the opportunity for delegates to attend a gout symposium on the Thursday evening with a working dinner.
For the programme of events, delegate offers and registration form, please download and save the attached PDF document.
Holiday Inn Southampton,
Herbert Walker Way,
Southampton,
SO15 1AG
To find out more about this new organisation, the UK Rheumatology Nurses and Practitioners Society, please visit their website: http://www.ukrheumatologynursessociety.co.uk/about