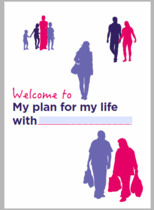 'My plan for life with…' is a guide designed to support and empower people with chronic musculoskeletal conditions to manage their condition better and to feel more in control of their care.
The tool aims to help people make the most of their contact with healthcare professionals. It includes sections where they can note down how they are feeling, any questions they want to ask, or to record test results and next steps in their treatment and care. It also signposts sources of information and support.
The tool is meant to be owned by the individual with the condition. It is their personal guide, for them to complete as they wish and they may want to ask their healthcare professionals or carers to help them complete particular sections.
Incisive Health have put together this Q&A booklet to introduce the "My plan for my life with…" guide.